Ep03: Ayse Hassan (Savages) on the absurdity of getting everything you thought you wanted and coming home to nothing
---
Welcome to episode 3 of "Attention Engineer"! I'm so happy to share my conversation with Ayse Hassan.
[Content warning: joyful, exuberant swearing, plus one mention each of bereavement and suicide in the context of a discussion about the potential healing power of music.]
About Ayse

Ayse Hassan is a multi-instrumentalist who first came to prominence as the bassist in rock band Savages. She has since made music in duos Kitebase and 180DB.

She's currently focusing on her solo project ESYA – listen here, support and follow on your favourite platforms: Bandcamp / YouTube / Instagram / Spotify / Soundcloud.
---
In this conversation, we discuss:
how a HMV combo deal and a terrible audition kicked off an exciting career as a bassist
saved by matcha tea – how the rock n roll myth could have killed her
what to do when touring for 7 years means coming home to nothing
the importance of integrity in an industry where everyone's making it up
the perversity of social media and how to make proper memories at gigs
how to write a book on a tour bus
The three songs Ayse recommends from her back catalogue are: "Obsolete" by Esya, "Fuckers" by Savages and "Something I Can Never Have" – a NIN cover by Kitebase.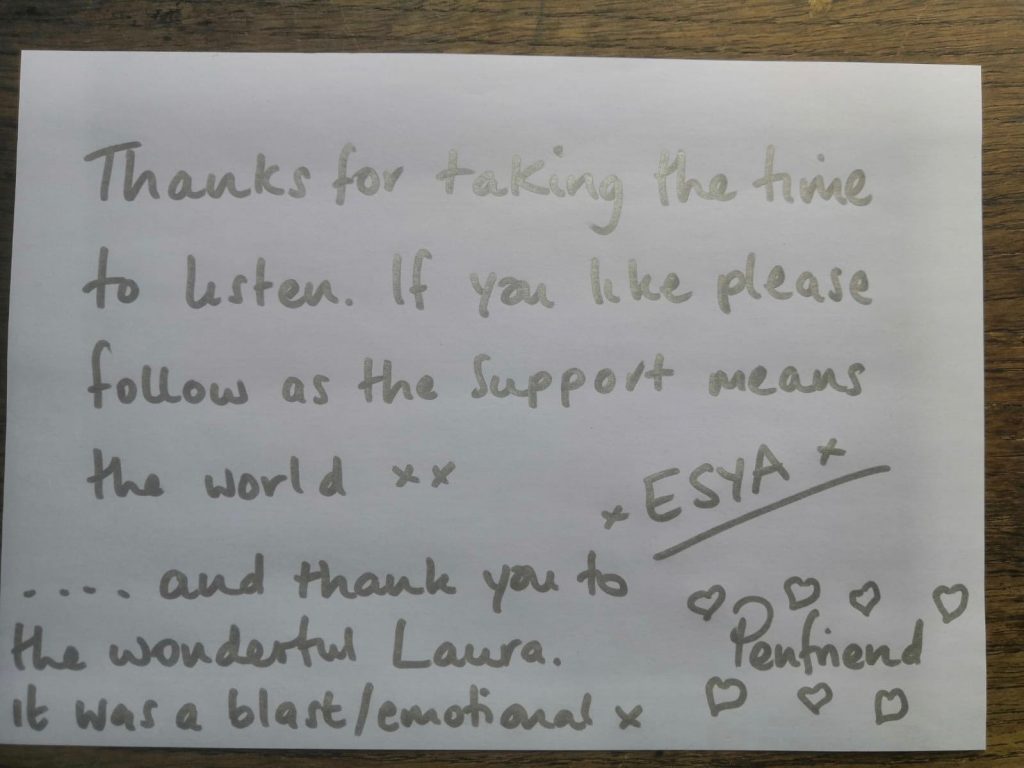 Ayse Recommends
MUSIC: Gazelle Twin (check out the collaboration with NYX, "Deep England"), Beak and Depeche Mode.
BOOKS: "The Secret Life of Trees" and "The Hidden Life Of Trees" by Peter Wohlleben, "Underland" by Robert Macfarlane and "The Handmaid's Tale" by Margaret Atwood.
Other artists mentioned: Laura Mary Carter (Blood Red Shoes / Shit Girlfriend), Gemma Thompson's project Unmoor Kiva and Brody Dalle.
The Frank Herbert quote Ayse mentioned is from "Dune": "I must not fear. Fear is the mind-killer. Fear is the little-death that brings total obliteration. I will face my fear. I will permit it to pass over me and through me. And when it has gone past, I will turn the inner eye to see its path. Where the fear has gone, there will be nothing. Only I will remain." Powerful stuff.
She also mentioned the contributions the Musicians Union and Featured Artist Coalition are making to help artists navigate the wilds of the modern music biz.

I also mentioned one of my favourite podcasts "Song Exploder" – listen here.

Thank you, Ayse!!!
---
This podcast is 100% powered by my Correspondent's Club. Thanks to every single member for your support!
New to my musical world?

+ Get two free songs music immediately by joining my mailing list.
+ I send a thoughtful email every week – join The Correspondent's Club on a free or paid tier to receive it.
+ New episodes of my music podcast "Attention Engineer" are released every Wednesday – visit this page to find out more and subscribe via your favourite podcast platform.
+ You can also follow me around the web, on YouTube, Twitter, Instagram and Facebook.
Have a lovely day xo
Podcast