Ep05: Charlotte Hatherley on how 20 years of being in a band has equipped her for the apocalypse
---
Well hello there, and thanks for visiting! I'm delighted to share my conversation with Charlotte Hatherley, recorded on 24th March 2020.
[Content warning: some swearing present, issued in very friendly voices.]
In this conversation, we discuss:
how Charlotte went from scraping through her A levels to playing in front of 50,000 people in Ash
the day Charlotte met David Bowie – what's it like meeting your number one hero?
the day Laura saved Paul McCartney from an awkward conversation in Montego Bay
the ups and downs of touring – is there more to life?
how to navigate an ever changing technological landscape as a musician
is B7 is the most irritating chord? (with thanks to guitarist Charley Stone for this question)
The three songs Charlotte recommends from her back catalogue are: "Behave" (The Deep Blue), "A Sign" (True Love) and her sci-fi cover of "How Deep Is Your Love?" by Bee Gees.
---

Things we talked about

In the intro I mention my recent blog post about Facebook unfriending, plus Cal Newport's books "Deep Work" and "Digital Minimalism" and his new podcast "Deep Questions".

Charlotte mentions Charlotte Cooper from The Subways, bass playing heroes Kim Gordon, Kim Deal, Melissa Auf der Maur and D'arcy Wretzky, and seeing Hole (with drummer Patty Schemel) and PJ Harvey play live. She talks about looking up to Bowie guitarists Carlos Alomar and Robert Fripp and remembers the excitement of finding out about American bands L7, Bikini Kill and Sleater-Kinney plus the zine scene of Portland.

We talk about how inspiring Viv Albertine (The Slits) and Gina Birch (The Rainboats) are, and I urge everyone to listen to Viv's solo album "The Vermillion Border" (on which I have a teeny cameo – I had the great honour of playing bass and singing in Viv's band at many gigs, and her music is GREAT, as are both her books). Charlotte also talks about Patti Smith and Lucinda Williams continuing to do brilliant things.

Songwriter Frank Turner comes up in conversation about touring – listen to my conversation with him here and watch Charlotte playing live sessions with him here + here. Excellent stuff.

Bookwise, I mention "The Last" by Hanna Jameson and Charlotte talks about "Where The Heart Beats: John Cage, Zen Buddhism and the Inner Life of Artists" by Kay K. Larson.

I also mention my love for birdsong.fm.

Charlotte is listening to:

The "Uncut Gems" soundtrack by Daniel Lopatin, Grimes' new record "Miss Anthropocene", the "Chernobyl" soundtrack by Hildur Guðnadóttir and the "Mandy" soundtrack by Jóhann Jóhannsson.
---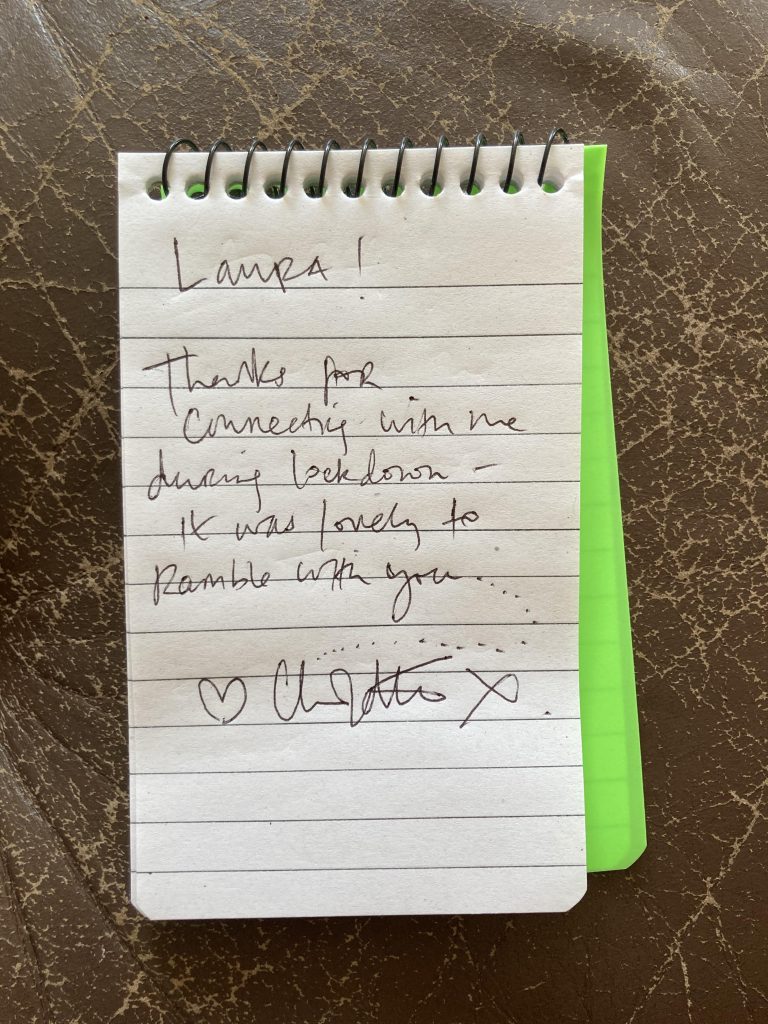 About Charlotte

Charlotte Hatherley is a composer, solo artist, and guitarist who initially came to prominence as guitarist and backing vocalist for alternative rock band Ash.

After leaving Ash in 2006, she recorded and performed extensively with artists including Bryan Ferry, Bat For Lashes, KT Tunstall and Birdy.

Most recently Charlotte has toured as musical director for critically acclaimed South African artist, Nakhane.

A truly versatile artist, she has written for film and stage and inspired by her love of science fiction, her fourth solo album, True Love, was released in 2018. Her soundtrack for the powerful film 'Imogen' was released in May 2020.

Follow Charlotte on Twitter and Instagram, and watch out for her podcast coming soon!
---
This podcast is 100% powered by my Correspondent's Club. Thanks to every single member for your support!
New to my musical world?

+ Get two free songs music immediately by joining my mailing list.
+ I send a thoughtful email every week – join The Correspondent's Club on a free or paid tier to receive it.
+ New episodes of my music podcast "Attention Engineer" are released every Wednesday – visit this page to find out more and subscribe via your favourite podcast platform.
+ You can also follow me around the web, on YouTube, Twitter, Instagram and Facebook.
Have a lovely day xo
Podcast