Ep17: Corin Tucker (Sleater-Kinney) on finding your own power
---
Attention Engineer is back, and I'm delighted to be launching the second series with a very special conversation with Corin Tucker, recorded on 18th September 2020. Hooray!
[Content warning: some friendly swears.]
In this conversation, we discuss:
the importance of art in helping us make sense of the massive world events we're all living through
finding your own power through your voice
the magic of collaboration – writing songs with REM's Peter Buck
why you should always watch your support bands
the importance of finding your purpose – are you really helping your community?
connection as a marker of true success
the effect of COVID-19 on Sleater-Kinney's tour plans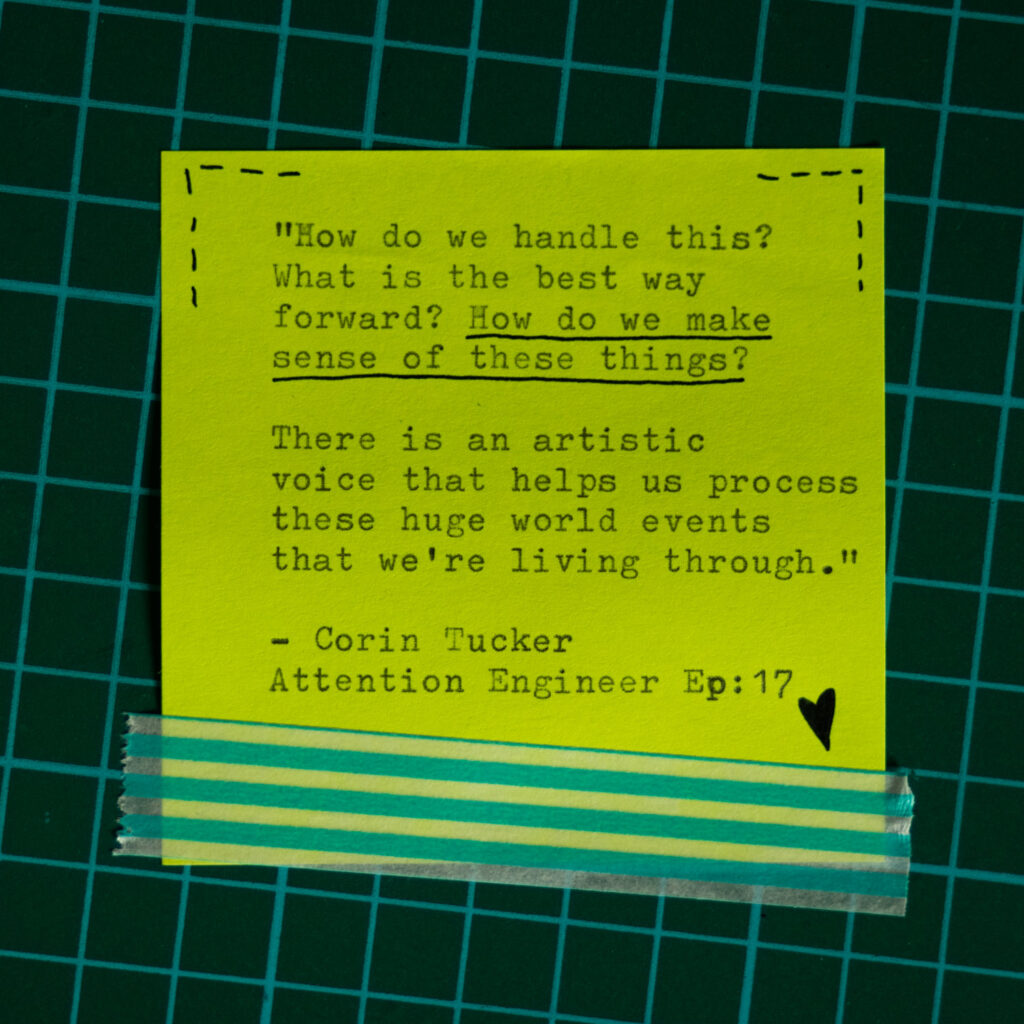 Explore Corin's work:
---
Corin Recommends:

"Saint Cloud" by Waxahatchee, the music of Khruangbin and Chicano Batman and "Jaime" by Brittany Howard.
---
Corin Tucker is a singer, songwriter and guitarist, best known for her work with rock band Sleater-Kinney. She started her career playing in influential early 90s band Heavens to Betsy, has released solo music as The Corin Tucker Band and collaborates with REM's Peter Buck in Filthy Friends.


This podcast is 100% powered by my Correspondent's Club. Thanks to every single member for your support!
New to my musical world?

+ Get two free songs music immediately by joining my mailing list.
+ I send a thoughtful weekly email every Thursday – join The Correspondent's Club on a free or paid tier to receive it.
+ New episodes of my music podcast "Attention Engineer"are released every Wednesday – visit this page to find out more and subscribe via your favourite podcast platform.
+ You can also follow me around the web, on YouTube, Twitter, Instagram and Facebook.
Have a lovely day xo
Podcast