Ep13: J. Willgoose, Esq. (Public Service Broadcasting) on what to do when your band has already headlined Brixton Academy
---
Hello there! Welcome to my conversation with J. Willgoose, Esq. of Public Service Broadcasting, recorded on Wednesday 15th July 2020. Keep scrolling for links to everything we discussed in this episode, visit PSB's website to explore their back catalogue and sign up to the newsletter and read J.W. (E)'s blog here.

09/21 update: PSB's new album "Bright Magic" is available now!
[Content warning: a very small amount of friendly swearing.]

In this conversation, we discuss:
how an early encounter with Oasis and the realisation Paul Simon wasn't the most talented musician on his stage spurred a young Willgoose on to a career in music
the importance of "putting a shift in" – showing up when creativity seems very far from hand
the challenge of redefining creative success when your band has already headlined Brixton Academy
how maintaining genuine peril at the heart of your live show makes for the possibility of a great gig
respecting your audience – choosing venues to play based on how comfortable they are for your fans
how to dial down the fanboy when collaborating with one of your all-time musical heroes
the concept of "the harder you practice the luckier you get"
---
The three songs J.W. (E) recommends from PSB's back catalogue are: "Go", "Spitfire" and "You + Me". We also talked about PSB's collaboration with James Dean Bradfield, "Turn No More".
---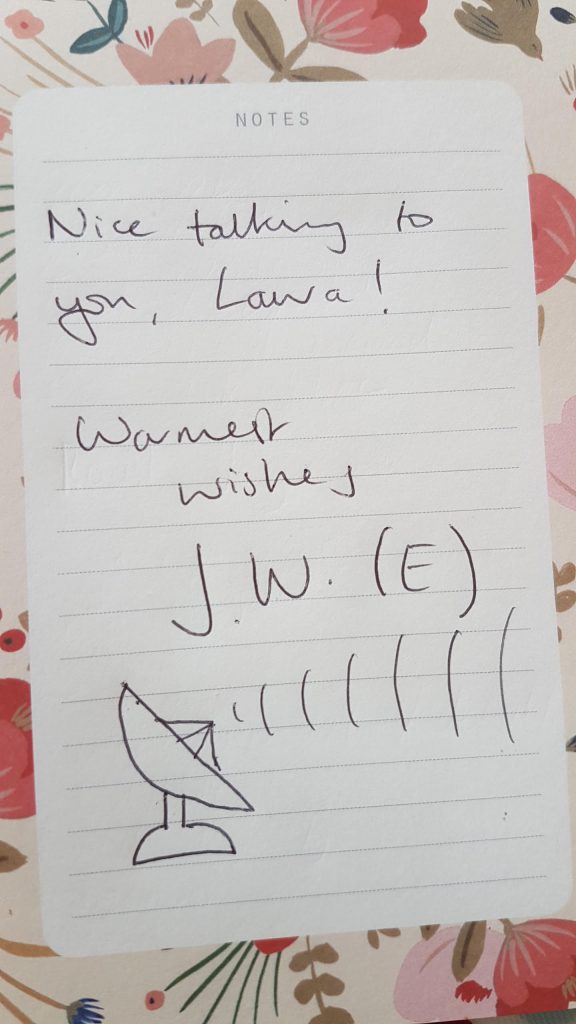 Willgoose Recommends:

Music: Juana Molina's album "Halo" (particularly the song "Cosoco"), Tangerine Dream and the music of Kelly Lee Owens.

Books: "Reality is Not What it Seems: The Journey to Quantum Gravity" by Carlo Rovelli and "Economics: The User's Guide" by Ha-Joon Chang.


---
Other things we talked about:

J.W, (E) quotes George Orwell, "our job is to make life worth living" – from his "Reflections on Gandhi", published in January 1949, which you can read in full here courtesy of The Orwell Foundation.

I mention "flow state", the mental state in which a person performing an activity is fully immersed in a feeling of energized focus, full involvement, and enjoyment in the process of the activity.

We discuss knotty thrillers "The Wire", "Dark", "Lost" and "Twin Peaks". Damn good coffee.

I mention the PSB documentary "The Making Of "Every Valley" – watch here, plus I quiz J.W, (E) on his excellent Tedx talk "Live music should go wrong" – watch that here – and whether he named his dog after Fyodor Dostoevsky.

J.W, (E) reminds me I've only managed to read the first chapter of David Byrne's "How Music Works" book. Byrne's website is brilliant – look. He also bigs up The National, we both say how much we respect Elbow, and I give a shoutout to Frank Turner, who starred in episode 4 of this podcast.

I quote from "Man's Search For Meaning" by Viktor E. Frankl, which I highly recommend to anyone, and finally, Daniel Kahneman's Desert Island Discs comes up, because the Nobel Prize winning psychologist commented that people who choose to work in the creative arts are most likely to be unhappy. Oops!
---
About Public Service Broadcasting

Public Service Broadcasting is the corduroy-clad brainchild of London-based J. Willgoose, Esq. who, along with drumming companion Wrigglesworth and multi instrumentalist JFAbraham, is on a quest to inform, educate and entertain audiences around the globe.
PSB's uniquely spell-binding live AV transmissions see them weave samples from old public information films, archive footage and propaganda material around live drums, guitar, banjo and electronics as they teach the lessons of the past through the music of the future – beaming our past back at us through vintage tv sets and state of the art modern video projection devices.


This podcast is supported by Arts Council England and The National Lottery and powered by my Correspondent's Club.
+ Get FREE music immediately by joining my mailing list.
+ I send a thoughtful weekly email every Thursday – join The Correspondent's Club on a free or paid tier to receive it.
+ New episodes of my music podcast "Attention Engineer"are released every Wednesday – visit this page to find out more and subscribe via your favourite podcast platform.
+ You can also follow me around the web, on YouTube, Twitter, Instagram and Facebook.
Have a lovely day xo
Podcast