Ep26: Rat (Ned's Atomic Dustbin) on how Miles Hunt and the YouTube sidebar led to a musical collaboration with…me!
---
Greetings, audio adventurer! Welcome to my conversation with Rat, recorded on 4th December 2020.

Click here to get your copy of the collaborative single we just released and click here to get your ticket for the Ned's Atomic Dustbin shows in 2021.
[Content warning: some friendly swears.]
---
In this conversation, we discuss:
Obey Robots – our new collaboration project – how Miles Hunt (The Wonder Stuff) and the YouTube sidebar brought us together
Rat's experience of going on Top Of The Pops in the early 90s, sandwiched between Roxette and Hale and Pace
the comfort of disappearing into a room with a guitar in hand
knowing your place as a performer – how the Ned's manager Tank drilled respect for the audience into the band from the early days
writing and recording over email – how the internet made it possible for Obey Robots to spring into life this year, and how Ned's might not have existed if it had happened sooner
how you – yes YOU – can get into home recording too (with honourable mention of this great book, "Guerilla Home Recording" by Karl Coryat)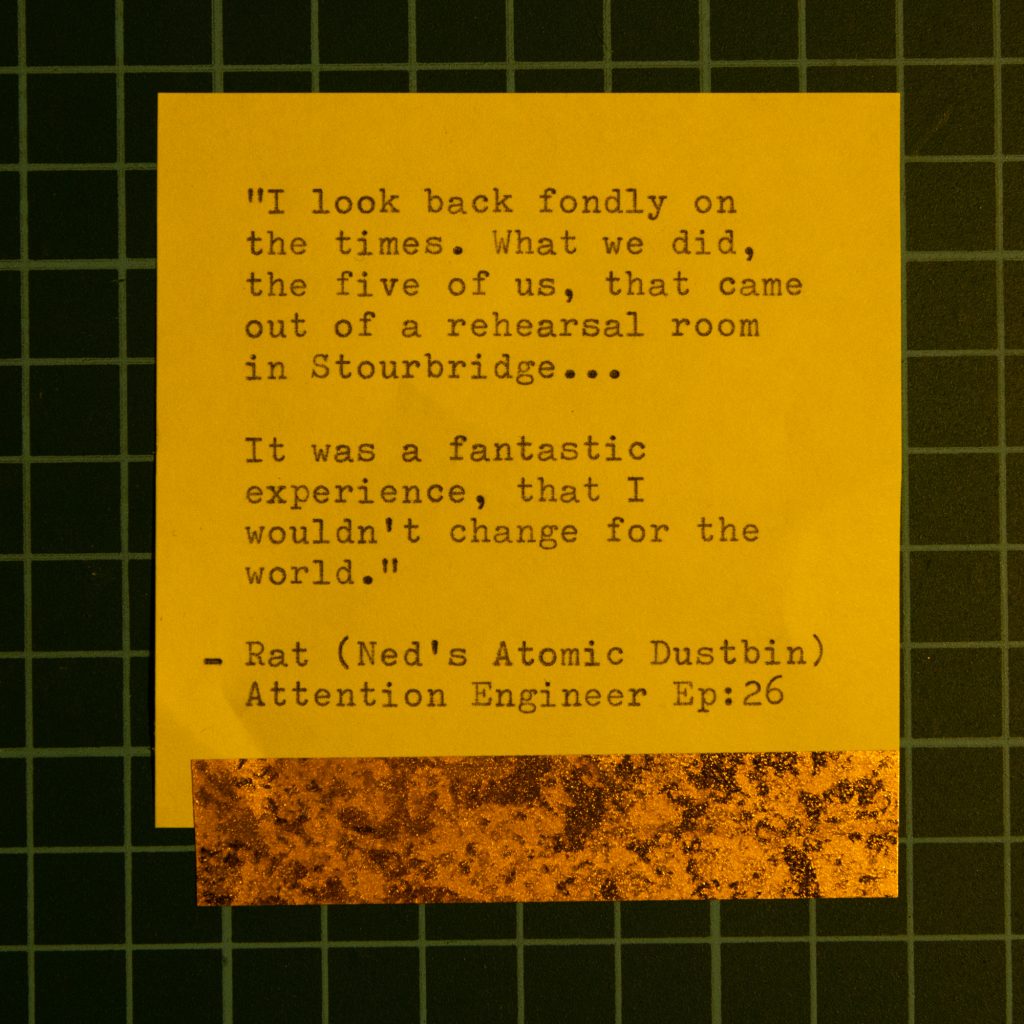 Explore Rat's work:
Find out more by visiting NAD's website and following Rat on Twitter.
---
---
---
About Ned's Atomic Dustbin

Ned's Atomic Dustbin are an English rock band formed in Stourbridge, West Midlands, in November 1987. Formed at sixth-form college, the band recorded their first album while some of the members were still teenagers.

From these humble beginnings, the band went on to sign to Sony Music, and their debut album "Godfodder" shot to number 4 in the UK albums chart in 1991. They released three albums and travelled the world, plus played Top Of The Pops twice before disbanding in 1995. In 2008, Ned's reformed for a show at The Astoria, and since then have been playing regular reunion shows with The Wonder Stuff and Pop Will Eat Itself.

In 2019 they released 14-track album "Ned's Acoustic Dustbin", and in 2021 they will be performing in London and Stourbridge to celebrate the 30th anniversary of "The Ingredients" EP. Get tickets here.


This podcast is 100% powered by my Correspondent's Club. Thanks to every single member for your support!
New to my musical world?

+ Get two free songs music immediately by joining my mailing list.
+ I send a thoughtful weekly email every Thursday – join The Correspondent's Club on a free or paid tier to receive it.
+ New episodes of my music podcast "Attention Engineer"are released every Wednesday – visit this page to find out more and subscribe via your favourite podcast platform.
+ You can also follow me around the web, on YouTube, Twitter, Instagram and Facebook.
Have a lovely day xo
Podcast