Ep27: Robin Ince on forging a career with "a dirty bomb of failed creativity"
---
Hello, hello! Welcome to my conversation with Robin Ince, recorded on 1st December 2020. Find out more about Robin's work here and check out the Book Shambles Patreon here.

The Nine Lessons and Carols for Socially Distanced People Encore show is this Saturday 18th December – watch here.
[Content warning: some friendly swears.]
---
In this conversation, we discuss:
the importance of giving yourself permission to be creative
building a creative career after things didn't go how you thought they would, and how "wasting" your 20s could lead to better work later
a day in the life of Robin Ince – prompted by a question from previous guest Bec Hill, I ask for productivity tips and receive a surprising answer
wrestling self loathing, the inner critic and an engorged ego – how to keep making things
what it's been like staying in one place in 2020 after years spent constantly on the road
how, at times, we are the voice of lots of people who are very quiet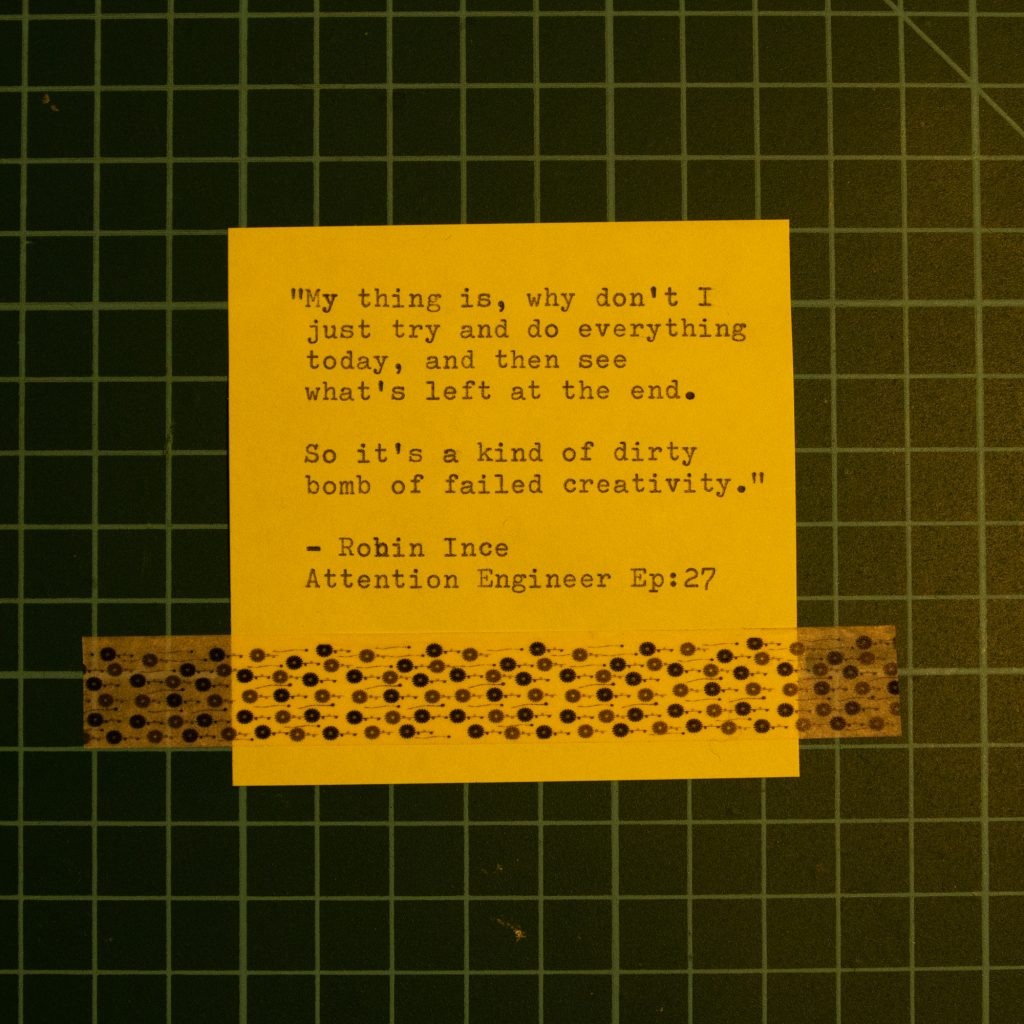 Explore Robin's work:
Find out more by visiting Robin's website and following him on Twitter.
---
---
About Robin Ince

Robin Ince is many things. A comedian, an author, a broadcaster and a populariser of scientific ideas. The Guardian once declared him a 'becardiganed polymath' which seems about right.
He is probably best known as the co-host of the Sony Gold Award winning BBC Radio 4 series The Infinite Monkey Cage with Professor Brian Cox. He also co-hosts the podcast Robin and Josie's Book Shambles, which gains over 100,000 listeners a month, which is part of The Cosmic Shambles Network, which he also co-created.
His most recent book, I'm a Joke and So Are You, was described by Chortle as 'one of the best books ever written about what it means to be a comedian'. He also wrote the book, The Bad Book Club, and has edited and written short stories for two volumes of Dead Funny: Horror Stories by Comedians, as well as writing and presenting documentaries about the history of self-help, comedians and melancholy, Jeff Wayne's War of the Worlds, Richard Feynman, General Relativity and Dr Seuss.
As a stand up he has toured the world and won three Chortle Awards, the Time Out Outstanding Achievement Award and was nominated for the British Comedy Awards Best Live show. The Guardian once wrote that, 'When someone writes a history of modern comedy, they should make room for Robin Ince' and of his latest show The Scotsman described it as an 'alchemic mix of enthusiasm, knowledge and observation'.
He has created, curated, pioneered and hosted numerous nights mixing science, music and comedy at some of the most celebrated venues around the world from the Hammersmith Apollo to the Roy Thomson Hall in Toronto and the Royal Albert Hall. His brainchild Nine Lessons and Carols for Curious People continues to sell out theatres every year, over a decade after its first appearance, and in 2019 he embarked on a world tour of arenas with Professor Brian Cox.
He has received an Honorary Fellowship of UCL, an honorary doctorate from Royal Holloway College (University of London), and is a fellow of the British Science Association.


This podcast is 100% powered by my Correspondent's Club. Thanks to every single member for your support!
New to my musical world?

+ Get two free songs music immediately by joining my mailing list.
+ I send a thoughtful weekly email every week – join The Correspondent's Club on a free or paid tier to receive it.
+ New episodes of my music podcast "Attention Engineer" are released every Wednesday – visit this page to find out more and subscribe via your favourite podcast platform.
+ You can also follow me around the web, on YouTube, Twitter, Instagram and Facebook.
Have a lovely day xo
Homepage Feature
Podcast