If that's the price of being honest on the internet…
Read on to find out why we have a few more copies of "One In A Thousand" available on vinyl now – including 20 copies of the "clear with black smoke" variant!
➡️ OR head to the shop to grab yours now.

---
I wrote a few weeks ago about how poorly "One In A Thousand" fared with being stocked in record shops. After printing 500 special (let it) snow white vinyl copies for shops, only 150 were required by my distributor.

As I don't participate in the trend of introducing new vinyl variants late in a pre-order, effectively asking collectors to buy again, I had a moral quandary on my hands: hope the white vinyl would be in demand from shops later on, or offer it to fans?

I opted for the latter, wrote this piece to explain, and offered all existing vinyl customers money off if they did choose to add white vinyl to their order.

After all the release week hubbub, I asked my distributor which record shops did stock "One In A Thousand", and wanted to take this opportunity to send heartfelt thanks to those who took a chance on our album:

Record Culture, Stourbridge
Longwell Records, Keynsham
Banquet Records, Kingston
Norman Records, Leeds
Juno Records
Rough Trade
Diverse Records, Newport

Thank you for championing new music!

---

WHERE SHOULD I BUY YOUR ALBUM?

Record shops are havens – I have such fond memories of browsing Andy's Records in Bury St Edmunds as a teenager, picking up life-changing Feline singles from the bargain bin, nervously asking for the new "Skunk And Nancy" album at the counter and not being laughed at… I know many music supporters have their own such stories, and these bastions of culture are doing their best to cling on just like the rest of us.

However, in the interests of showing a bit of what goes on under the hood: "One In A Thousand" is released on my own label My Big Sister Recordings, and distributed by SRD. This means that when it's sold anywhere other than direct to fan through my shop or Bandcamp, I get paid a chunk less. The record shop needs to be paid for their work, and my distributor needs to be paid for their work.

This works out fine if the shop attracts new people to the music, those who haven't heard about it through my mailing list, videos or social media…but if you have heard about my music from me I would love it if you'd buy direct.

When I wrote my piece a few weeks ago I was disappointed with the stocking situation, but was very careful not to point fingers. The system doesn't work, in my opinion, but I don't "hate the player", and I only work with people I respect and trust.

So it was quite a shock to discover that someone from a certain Glasgow based record shop, upon reading my post, decided to call up my distributor and accuse me of slagging off them *and* record shops, when I did neither.

If that's the price of being honest on the internet, bring it on – I'm not playing any games, and I won't shut up to keep the peace with people who behave in this fashion.

Here's what I actually said:
Because we've chosen (couldn't afford) not to pay (waste?!) upwards of £10,000 on PR and radio plugging to try and get glowing reviews and quotes (that don't sell records), most shops are unwilling to take the risk – even on sale or return.

They don't have the space, they don't know (or care) who we are, and it doesn't matter how good (we think) our album is. (It's excellent, by the way…)

I get it. It's tough times for everyone – and I'm thankful for the shops who have decided to take a chance on us.
In the days since our chart success, it's been interesting to note the plethora of record shops who suddenly have "One In A Thousand" in stock (well, "dispatched when received from distributor"). Again, shops can't stock everything, but it's eye-opening to see how these things work.

I've also been alerted to some shops selling vinyl for way over the odds – £30-£45. This is not cool!

In my shop I sell records for £22, with 100% of the profits going to us, the people who made the music (after manufacturing costs, transaction fees, warehouse packing fees, Shopify fees etc).

Shops pay £12.99 per unit for vinyl, so these shysters are potentially earning more than we are for a direct sale.

No thank you!

Today I've requested all remaining vinyl copies back from my distributor to sell in my own shop. Running my own label is a major faff, but one of the benefits is choosing which music industry nonsense to participate in. I choose none of it!

➡️ We have fewer than 100 snow white records left, along with 20 x clear with black smoke records and 1 x classic black.

Thank you for supporting Obey Robots, Penfriend and independent artists everywhere. You're the best.

"One In A Thousand" is available here.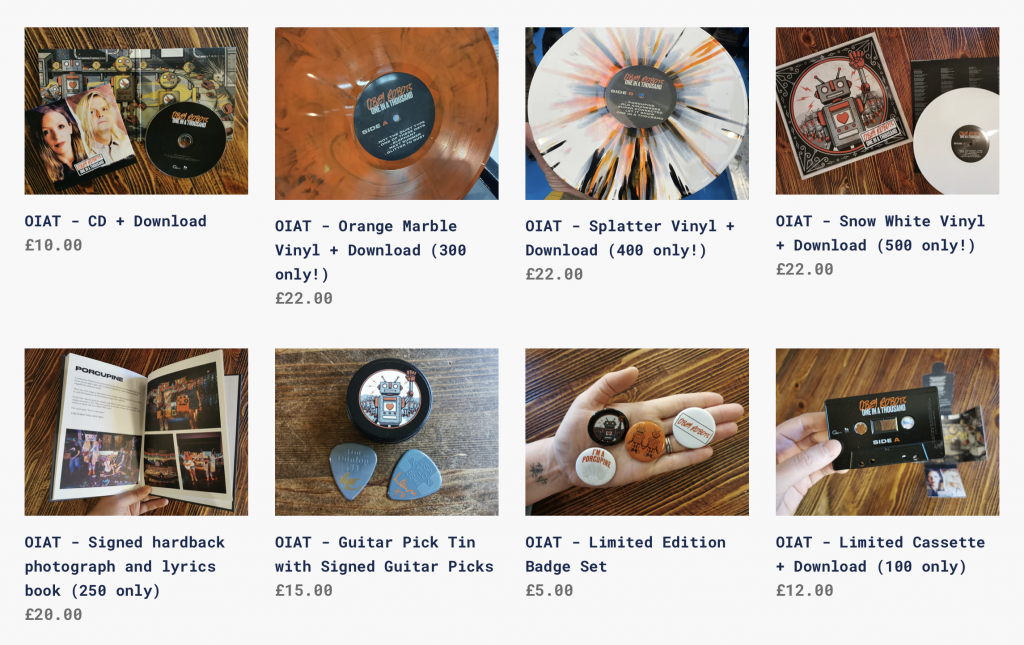 ---
Letterbox