Ep15: Estella Adeyeri (Big Joanie / Charmpit) on challenging assumptions and giving back to a supportive music scene
---
Oh hello there, and welcome to my conversation with Estella Adeyeri, recorded on 12th August 2020. Keep scrolling down for links to everything we discussed in this episode and make sure you check out Big Joanie's new single, their cover of "Cranes In The Sky" by Solange.
[Content warning: very occasional frustrated but friendly swearing.]
In this conversation, we discuss:
the role of libraries in our discovery of new ideas and music that spoke to us while growing up
the benefits of being part of a supportive music scene when getting started in bands, and how to nurture and make space for others
activism and music making – how the two can work together
how a teen love of Yeah Yeah Yeahs and Paramore led to playing in collaboration with others
the joy of getting to a place where you don't feel you have to pretend you know everything
some of the stupid shit that sound engineers have said to us
why are bass amps usually so heavy? A love note to Fender
---
Explore Estella's work:
---
---
Estella recommends:
---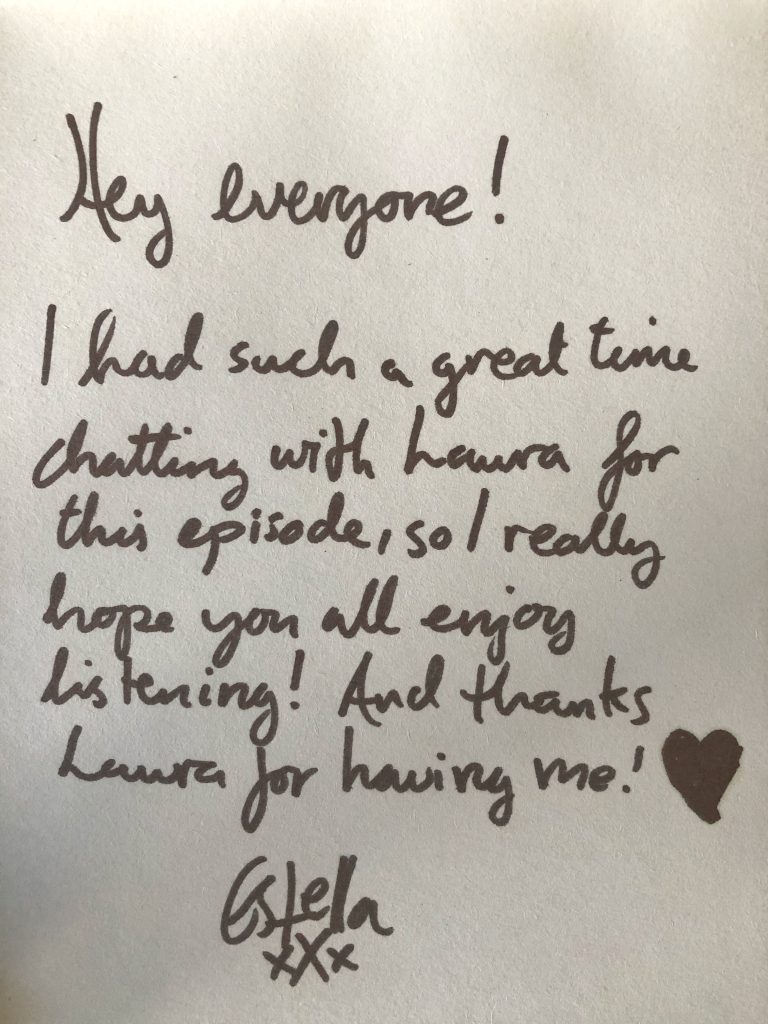 Other things we talked about:

Estella talks about volunteering with Girls Rock London and Decolonise Fest. We talk about books that were big for us growing up and discovering new ideas; Estella mentions Bell Hooks and I mention "The Female Eunuch" by Germaine Greer and "The Women's Room" by Marilyn French.

I mention finding Belly and Radiohead albums in the local library and having my life changed by them. Estella talks about her enduring love for Yeah Yeah Yeahs and growing up with Paramore.

Estella talks about DIY Space 4 London, a brilliant South London hub for music, art and activism. Shoutouts for Electric Voice microphones, Fender Rumble bass combos and cabs and York Fibbers, plus Sadie Dupuis of Sad13 and Speedy Ortiz, who was on this very podcast just last week!
---
About Estella

Estella Adeyeri is a performing musician and multi-instrumentalist. She plays bass guitar in Black feminist punk band Big Joanie, and lead guitar in anarcho-pop punk outfit Charmpit. She has performed at leading music events such as SXSW and Lollapalooza Berlin, and has featured with Big Joanie on radio stations such as BBC 6 Music and KEXP, and in publications such as Rolling Stone and Pitchfork. She has toured extensively and has shared stages with artists such as Sleater-Kinney, Bikini Kill and Gossip.

Estella is a member of the organising team behind Decolonise Fest, an annual London-based music festival run by punks of colour for punks of colour. She is also a board member of the Good Night Out Campaign, which seeks to create safer nightlife spaces. She has volunteered with Girls Rock London since 2017 as a band coach, instrument tutor, and year-round organiser.

Follow her on Twitter and Soundcloud.

This podcast is supported by Arts Council England and The National Lottery and powered by my Correspondent's Club.
+ Get FREE music immediately by joining my mailing list.
+ I send a thoughtful weekly email every Thursday – join The Correspondent's Club on a free or paid tier to receive it.
+ New episodes of my music podcast "Attention Engineer"are released every Wednesday – visit this page to find out more and subscribe via your favourite podcast platform.
+ You can also follow me around the web, on YouTube, Twitter, Instagram and Facebook.
Have a lovely day xo
Podcast