FLASH SALE for Friday 13th…anniversary of "Disarm"!
My debut album "Disarm" is 13 today, so I'm running a flash sale to celebrate!

Get 25% off:

+ "Disarm" on CD
+ "Disarm" on vinyl
+ "Disarm" demos and rarities collection on CD (25 tracks WTF?!!!!)
+ "Disarm:15" 5-track CD (reworked versions of songs from "Disarm"
+ "Disarm" bundle – 1 x vinyl, 2 x CD
+ "Disarm" / "Little Battles" double vinyl deal

GO GO GO!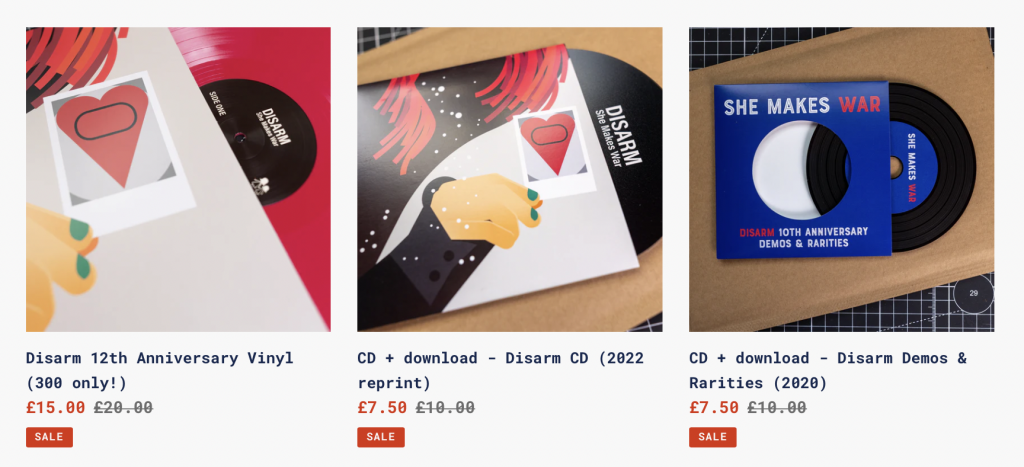 ---
I always find it interesting looking back at blog posts from around album releases, and it's especially pleasing to compare Past Laura's opinions with Current Laura. I think the two of us would still get on very well!
Shared on 2nd September 2010:
"As artists, musicians and videomakers we have all the tools at our disposal now and absolutely no excuses not to use them. Gone are the days when bands could get away with saying "That's not my job, I just make music" and expect to be handed opportunities.

I prefer it this way, having been stuck in a stingy record deal in the past with all rights removed, no say over the spending of money and told off by the label boss for asking too many questions (thankfully I hadn't written the entire album of songs that got lost in the ensuing band / label split…), but hey, since I was a little girl I always wanted to be in charge.

The late nights and early mornings in front of the computer and the money spent on printing, videos, ribbon, glitter and suchlike is all time and cash well spent, in my opinion, in the quest to create my funny little world of art and music, and feels even more worth it when the reaction from the world is this warm."

Social media shifted my focus from longer form written pieces for a good while, but with the launch of Penfriend in 2020 I signalled my forever return – so do have a browse of the Letterbox some time 🙂

Here's another smoke signal from the "Disarm" times:


A humble aside: I remember sitting down in front of the camera to film the quiet performance of "Eye Spy" in this video and feeling SO awkward and silly and embarrassed, even though I was in a recording studio I was paying to record my album in. Isn't that funny?! Next time I feel silly sitting down in front of a camera to film something in my own home (probably next week), I'll try and remember that – and, as always, will just try and get on with it.

Photo by Laura Ward taken at The Apollo Project, Herne Hill in June 2009.

Letterbox
Music News
Process