Penfriend in the charts…look what we did!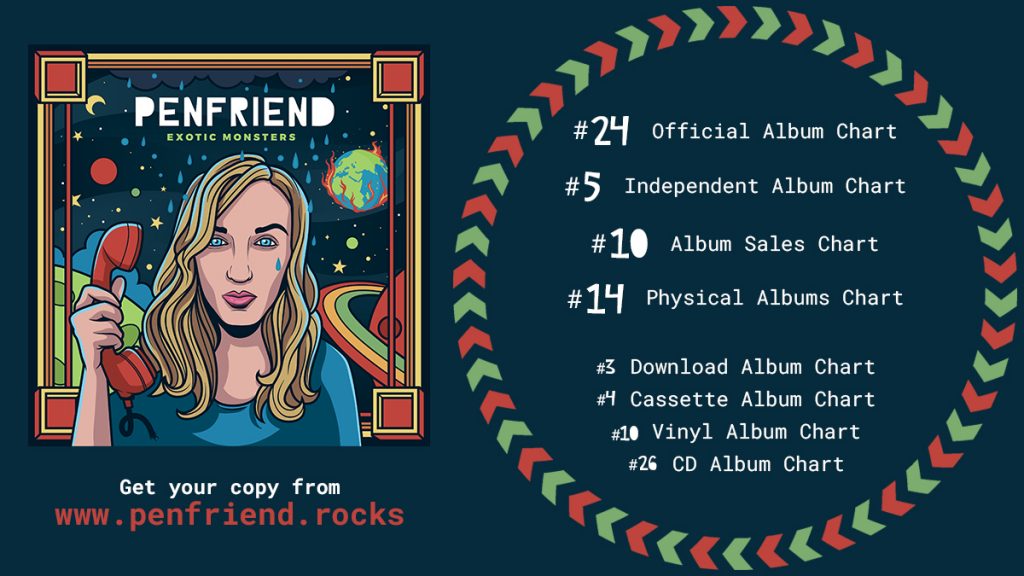 Look what you did! THANK YOU. This is a childhood dream come true…and I couldn't have done it without the support of music fans. WHATTTTTTTTTTT!
There's way too much smoke and mirrors in this business, so in keeping with my mission to show what can be done with honesty, focus and perseverance, I'd like to share some stuff with you. This stuff doesn't happen by magic!
This record was funded through contributions from my Correspondent's Club members and Bandcamp sales, and took 18 months from writing the first note to mixing the last song.
I wrote, produced and recorded the album alone in my home studio The Launchpad in Bristol. It was mixed by Dan Austin and mastered by Katie Tavini. Drums on 4 tracks were played/recorded by Max Saidi, piano on 3 tracks were played/recorded by Catherine Anne Davies.
On the visual side, the album artwork illustrations and layout are by Alex Tllbrook from concepts by me, and my logo / wordmark and the Penfriend animation were designed by Miritte Ben Yitzchak. I directed and edited my videos with help from Tim Bailey.
"Exotic Monsters" is released on my own label, My Big Sister Recordings, with distribution by SRD. Vinyl/CDs were beautifully printed by DMS, with cassettes and the demos and rarities discs by Band CDs. All other merch was printed by Awesome Merchandise.
You don't need fancy gear to make music, and you *can* learn how to record yourself, if you want. "Guerilla Home Recording" by Carl Coryat is a very approachable book, and YouTube is your teacher!
My home setup is very simple. I'm not sponsored by the following companies, but would highly recommend all of them.

I record through A Focusrite Clarett interface with Shure and Sennheiser microphones on my Fender Princeton guitar amp. I mostly played my Fender Jazzmaster and Ernie Ball MusicMan St Vincent guitars and my trusty Precision bass, which I record through my Sansamp DI pedal. Synths: Teenage Engineering OP-1, Casio VL-Tone, Roland System-8, Korg Minilogue and Native Instruments soft synths. Drum machine: Native Instruments Maschine Mk2.
As for getting the word out – artists, set up a mailing list NOW and stay in touch with the people who like what you do. Treat them like VIPs – they are VIPs. You can only do so much at once, so figure out what actually works and what you enjoy, and step away from the screen the rest of the time.

Learn how to do Facebook ads, or hire someone who can do them for you. Check out Indepreneur – their courses are brilliant. Ads don't have to be gross, I promise – they help with discovery; we're not selling crappy products that will break.
I'll be making a video series soon to help encourage other artists of all stripes, so subscribe to my YouTube channel for that.
I can't thank the supporters of my music enough for showing up for me over the past few months. Launching a new music project ten years into releasing albums was always going to be a gamble, but it's refreshed my drive to keep making music long into the future.
Creativity isn't for a select few – we all have a voice. If you have something to say – say it. Experiment and find your medium. Have fun. Reflect. Get to know yourself better. Let's support each other to be the change we want to see in the world.

Thank you so much for supporting me.
If you'd like to listen to "Exotic Monsters", it's here for you.
If you'd like some free music and thoughtful (e)letters, visit this page.
Thanks so much for making release week amazing, I hope you enjoy the musical world I made xxx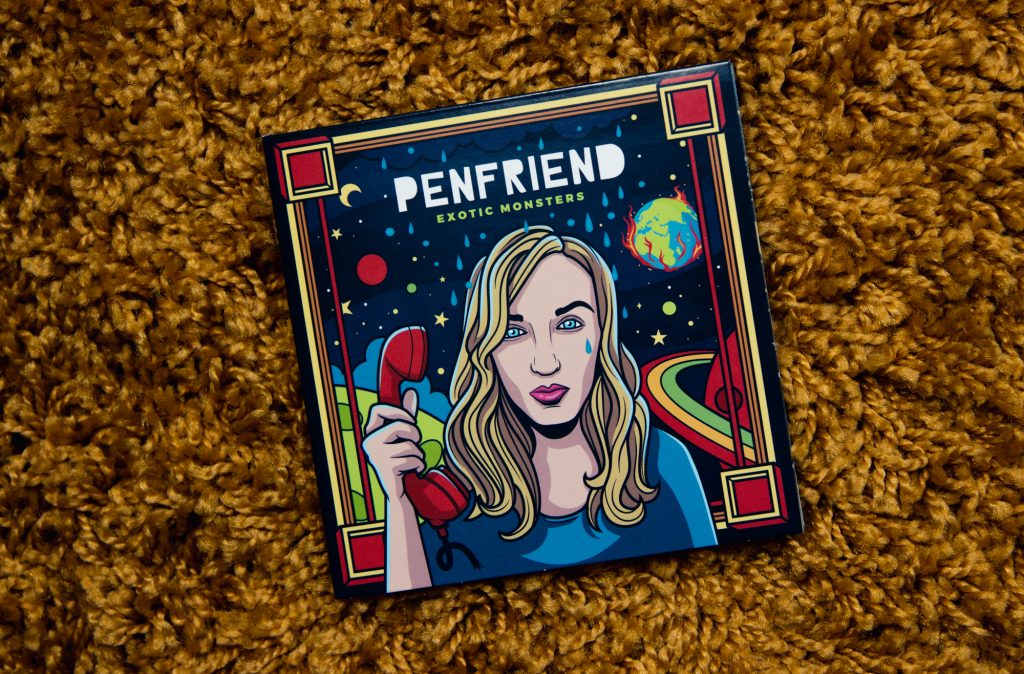 THANK YOU for visiting my website! I'm Laura Kidd, a music producer, songwriter and podcaster based in Bristol, UK. It's great to meet you.
+ Get your copy of my new album "Exotic Monsters" right here.

+ Get two free songs immediately when you sign up for thoughtful letters about art and music.
+ Browse episodes of my music podcast "Attention Engineer" here and subscribe via your favourite podcast platform.
+ You can also follow me around the web, on YouTube, Twitter, Instagram and Facebook.
Have a lovely day xo



Letterbox