Ep19: Lemn Sissay MBE on the importance of kindness in a longlasting career
---
Thank you for visiting – I'm very pleased to share this conversation with Lemn Sissay MBE, recorded on 26th August 2020.
[Content warning: some friendly swears.]
In this conversation, we discuss:
the difference between poetry and song lyrics – is there one?
how bad school experiences can ruin poetry for us normal people
what not to write on your Tinder profile
staying away from unproductive negativity – how to take better care of ourselves
the importance of kindness in a longlasting career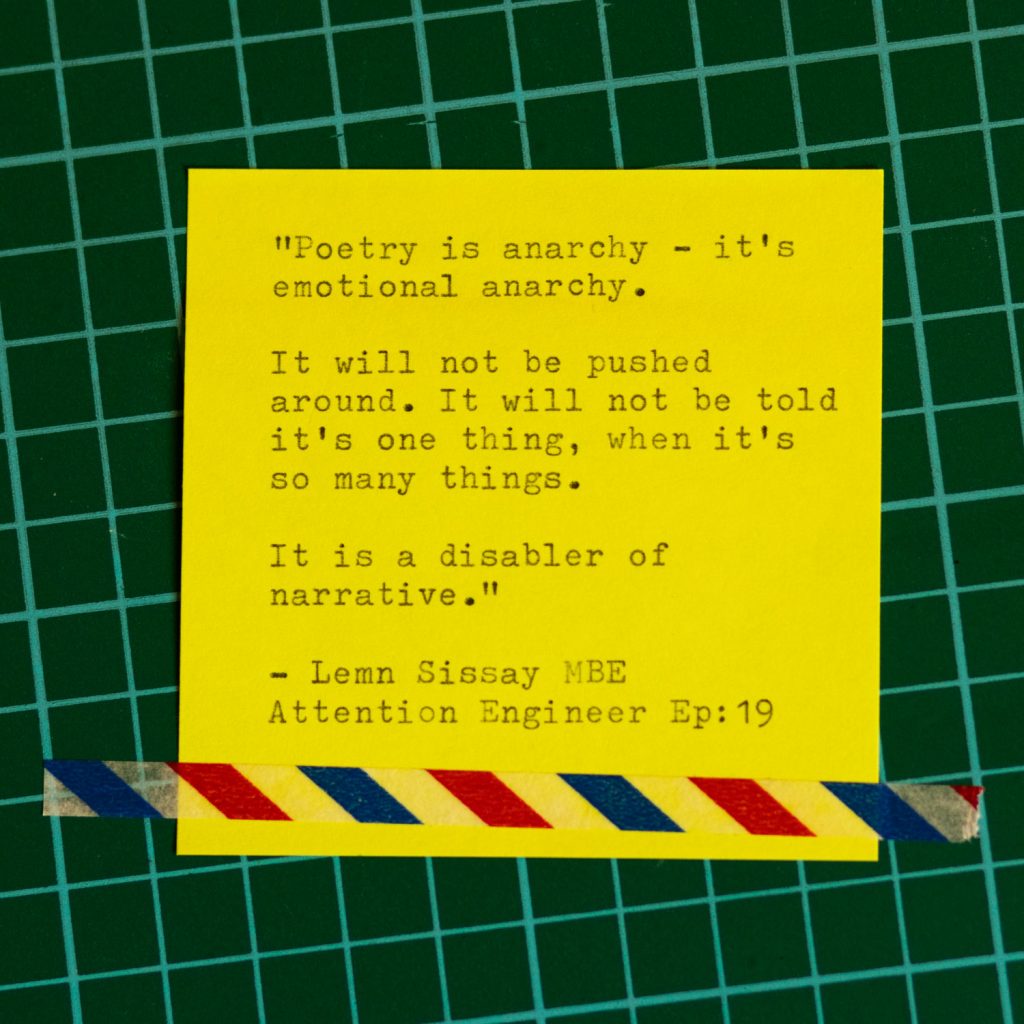 Explore Lemn's work:
---
Google the name "Lemn Sissay" and all the returning hits will be about him because there is only one Lemn Sissay in the world. Lemn Sissay is a BAFTA nominated award winning writer, international poet, performer playwright, artist and broadcaster. He has read on stage throughout the world: from The Library of Congress in The United States to The University of Addis Ababa, from Singapore to Sri Lanka, Bangalore to Dubai, from Bali to Greenland AND Wigan library.
He was awarded an MBE for services to literature by The Queen of England. Along with Chimamanda Ngoze Adichie and Margaret Atwood he won a Pen Pinter Prize in 2019. He is Chancellor of The University of Manchester and an Honorary Doctor from The Universities of Huddersfield, Manchester, Kent and Brunei. He is Dr Dr Dr Dr Lemn Sissay. He was the first poet commissioned to write for the London Olympics and poet of the FA Cup.
Photo credit: Slater King.


This podcast is 100% powered by my Correspondent's Club. Thanks to every single member for your support!
New to my musical world?

+ Get two free songs music immediately by joining my mailing list.
+ I send a thoughtful weekly email every Thursday – join The Correspondent's Club on a free or paid tier to receive it.
+ New episodes of my music podcast "Attention Engineer"are released every Wednesday – visit this page to find out more and subscribe via your favourite podcast platform.
+ You can also follow me around the web, on YouTube, Twitter, Instagram and Facebook.
Have a lovely day xo
Podcast