Ep20: Jim Bob (Carter U.S.M.) on not knowing how things *should* work – and doing them anyway
---
Thank you for visiting – I'm delighted to share my conversation with Jim Bob aka J.B. Morrison, recorded on 28th August 2020. Order Jim's 2021 album "Who Do We Hate Today" here.
[Content warning: some friendly swears.]
In this conversation, we discuss:
how to make an album when you think you've lost the ability to write songs
why Jim Bob only works with people he likes
the benefits of aiming higher than you should as an unschooled musician and novelist
what it feels like to get in the pop charts in 2020, after having a number 1 album with Carter in 1992
how to live a creative life after peaking early
how the fun has gone out of Twitter
how writing novels is (even more) brutal than writing songs
what it was like playing to 14 people on a bill with Ed Sheeran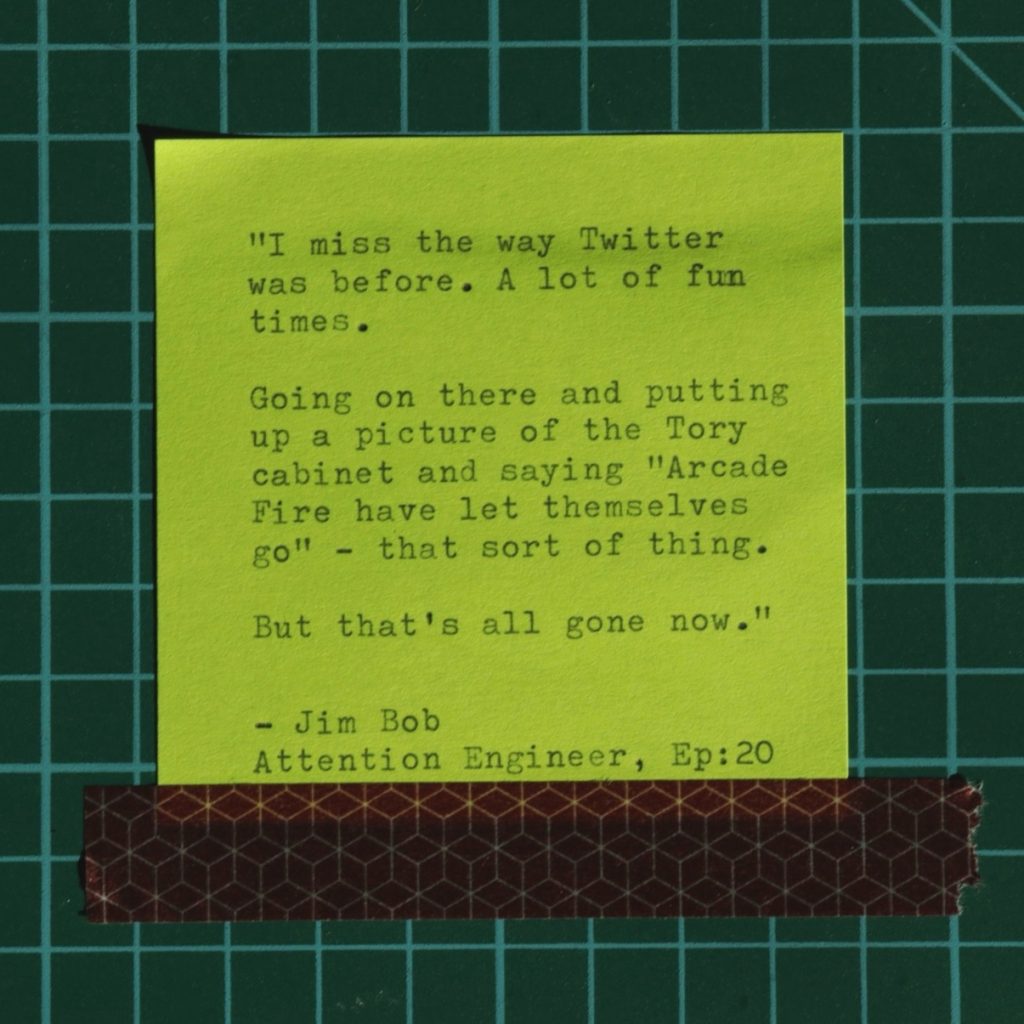 Explore Jim Bob's work:
Find out more by visiting Jim Bob's website and following him on Twitter.
---

Jim Bob recommends: the new Bright Eyes album "Down in the Weeds, Where the World Once Was", the music of Phoebe Bridgers, "Songs For The General Public" by Lemon Twigs. And he loves The Jam.
---
About Jim Bob

As singer with Carter The Unstoppable Sex Machine, Jim Bob had 14 top 40 singles, 4 top ten albums (including a number one), sold over a million records, toured the world and headlined Glastonbury. In 2007, ten years after initially splitting, Carter USM reformed for a series of huge, sold out shows until they called it a day again in 2014.
Outside of Carter, Jim Bob has had a long and varied career as a solo artist and writer. He has released eleven solo albums, two autobiographies and six novels (several under the name J.B. Morrison). His latest album, "Pop Up Jim Bob" came out in August 2020 and went to number 26 in the pop charts, and his fifth and sixth novels, "A Godawful Small Affair" and "Harvey King Unboxes His Family" were published in one volume in March.

This podcast is 100% powered by my Correspondent's Club. Thanks to every single member for your support!
New to my musical world?

+ Get two free songs music immediately by joining my mailing list.
+ I send a thoughtful weekly email every Thursday – join The Correspondent's Club on a free or paid tier to receive it.
+ New episodes of my music podcast "Attention Engineer"are released every Wednesday – visit this page to find out more and subscribe via your favourite podcast platform.
+ You can also follow me around the web, on YouTube, Twitter, Instagram and Facebook.
Have a lovely day xo
Podcast