Ep25: Thea Gilmore on ignoring normal to build an 18 album career
---
Hello and welcome to my conversation with Thea Gilmore, recorded on 16th November 2020. Visit Thea's website here and scroll down for more links to her work.
[Content warning: some friendly swears.]
In this conversation, we discuss:
building a longlasting music career – removing power from the middlemen and finding ways forward that aren't whatever normal is
how growing up alongside your fans is a bit like being followed around by your school class
how imposter syndrome can keep you grateful
honesty in music – taking down the wall brick by brick to become more uncomfortable
creating a sustainable income as an artist – the importance of both our subscription clubs in our continuing survival as artists, and Thea's pioneering early work in this area
how fame seems awful
what it's like to be one of Bruce Springsteen's favourite artists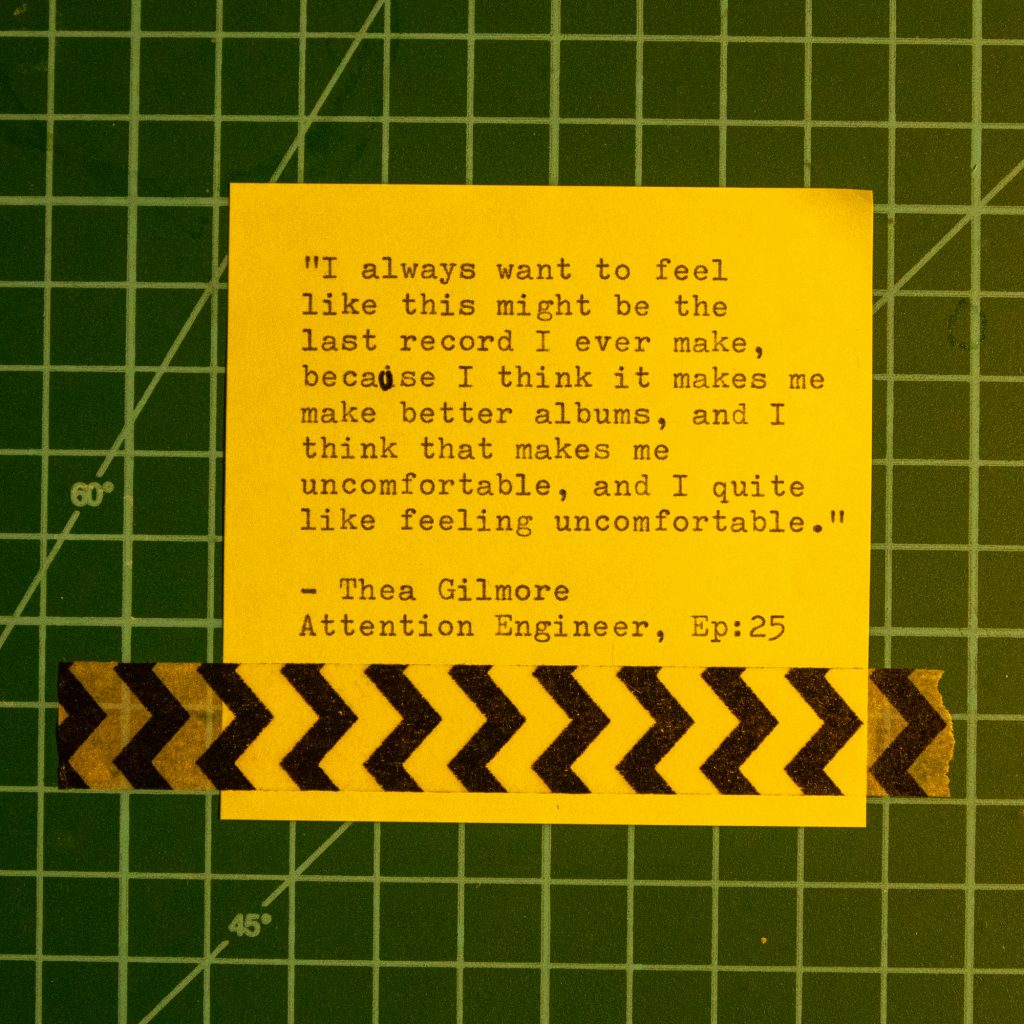 Explore Thea's work:
Find out more by visiting Thea's website and following her on Twitter.
---
---
About Thea Gilmore

An artist of enduring international acclaim and a justly revered lyricist, Thea Gilmore's musical settings have taken many ingenious detours in the 22 years since the release of her debut album, Burning Dorothy. Uncategorisable, whip smart and unafraid to speak her mind, her Twitter bio reads "Singer. Songwriter. Tall bird. Corruptor of words".


This podcast is 100% powered by my Correspondent's Club. Thanks to every single member for your support!
New to my musical world?

+ Get two free songs music immediately by joining my mailing list.
+ I send a thoughtful weekly email every Thursday – join The Correspondent's Club on a free or paid tier to receive it.
+ New episodes of my music podcast "Attention Engineer"are released every Wednesday – visit this page to find out more and subscribe via your favourite podcast platform.
+ You can also follow me around the web, on YouTube, Twitter, Instagram and Facebook.
Have a lovely day xo
Homepage Feature
Podcast