Ep24: Alicia Gaines (Ganser) on making music to entertain yourself
---
Hi there! Welcome to my conversation with Alicia Gaines, recorded on 14th November 2020.

Wrap your ears around the latest Ganser album here and scroll down for more links to Alicia's work.
[Content warning: some friendly swears.]

In this conversation, we discuss:
making music to entertain yourself, and why trying to sound cool has no place in 2020
the challenges of releasing an album during a global pandemic
using social media to make your own party instead of waiting to get invited to someone else's
the shared psychosis of being a band – what it's like making art as a collective subconscious trying to random in the same direction
how learning to advocate for yourself is essential in an artistic career
how school marching band / orchestra backgrounds propelled both of us towards careers as bassists
working out what the next mood is – how to stay creative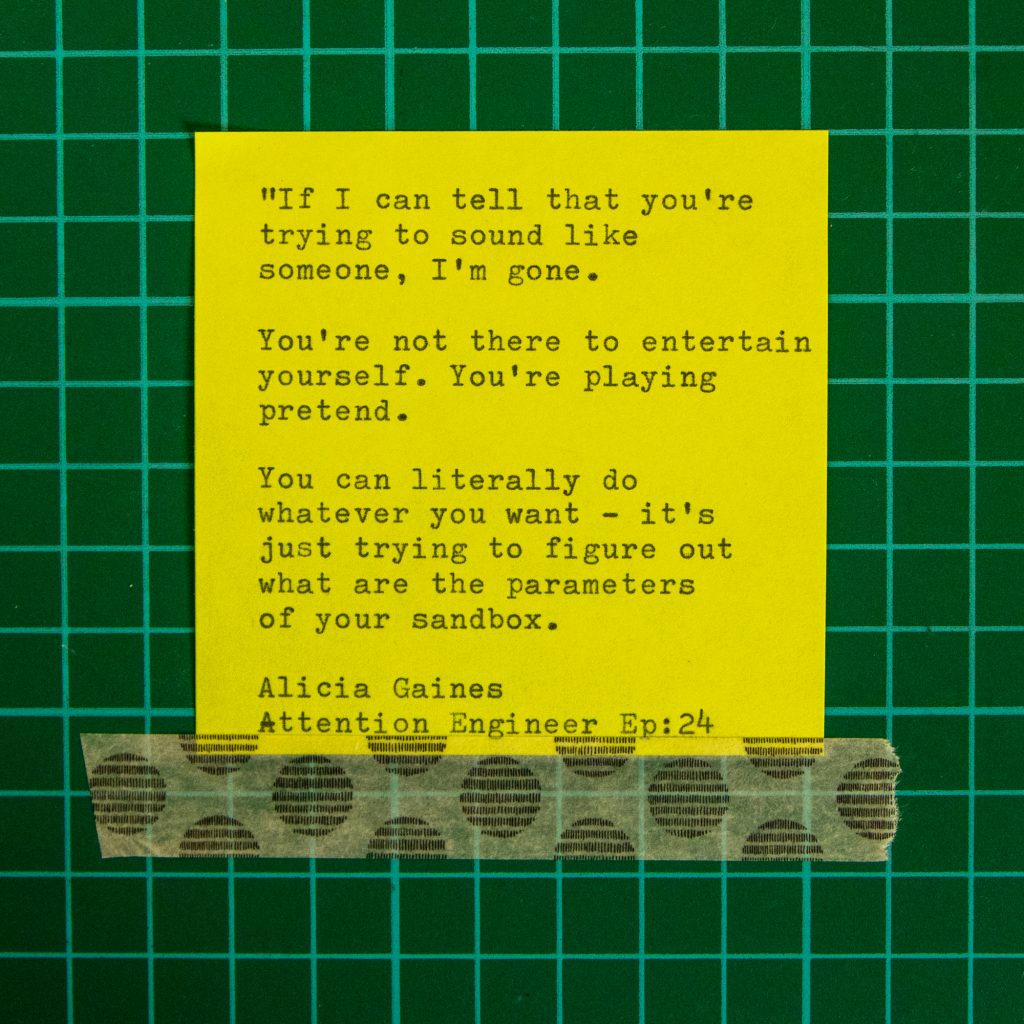 Explore Alicia's work:
Find out more by visiting Ganser's website and following them on Twitter.
---
---

Alicia recommends: The Durutti Column, Peter Gabriel, Liars and the work of Kate NV.
---
About Ganser

Growth with no reward. Finding strength in your less desirable traits. Coming up with the perfect comeback hours later in bed, glaring at the ceiling. Asking yourself: am I improving, or am I just changing into something unrecognizable? Chicago quartet Ganser probe the futility of striving for self-growth during the chaos of our times for dark comedy and jagged sounds on their potent new album Just Look at That Sky, released July 31st on Felte.

These are songs that never shy away from ugliness and confusion, that believe embracing the totality of the self sometimes means leaning into our dickish behavior. In the past, some listeners have had trouble reconciling non-male voices with the sorts of topics Ganser writes about, but that comes to an end with Just Look at That Sky. Co-produced with Electrelane's Mia Clarke and engineer Brian Fox, this is an assured, fully realized triumph of a record from an art-punk band that's figured out how to focus on making great art, even if everything else around them falls apart. – Eric Hatch


This podcast is 100% powered by my Correspondent's Club. Thanks to every single member for your support!
New to my musical world?

+ Get two free songs music immediately by joining my mailing list.
+ I send a thoughtful weekly email every Thursday – join The Correspondent's Club on a free or paid tier to receive it.
+ New episodes of my music podcast "Attention Engineer"are released every Wednesday – visit this page to find out more and subscribe via your favourite podcast platform.
+ You can also follow me around the web, on YouTube, Twitter, Instagram and Facebook.
Have a lovely day xo
Podcast