Ep23: Catherine Anne Davies (The Anchoress) on aiming for 40% happiness
---
Welcome to my conversation with Catherine Anne Davies, recorded on 10th November 2020.

Get the new Anchoress album here and scroll down for more links to Catherine's work.
[Content warning: some friendly swears.]
In this conversation, we discuss:
the importance of sheer bloodymindedness in a creative career
why everything we were told when we were starting out in the music business isn't true any more – and why that's exciting
how the Manic Street Preachers helped Catherine to university
"five-star loneliness" – the truth about touring
the importance of collaboration, and why making her recent album "In Memory Of My Feelings" with Bernard Butler (see episode 22!) was like taking a holiday
stage fright, performance nerves and "productive anxiety"
why boundaries are essential for artists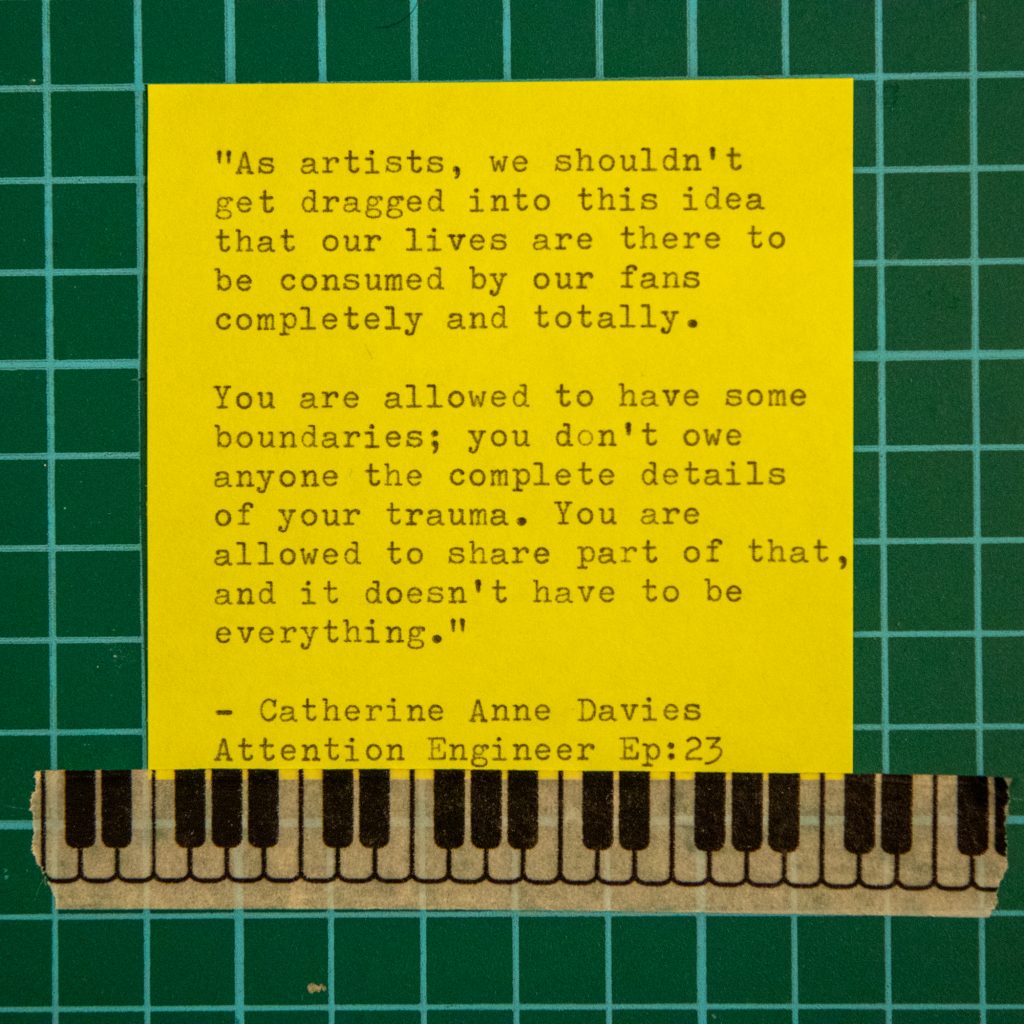 Explore Catherine's work:
Find out more by visiting Catherine's website and following her on Twitter.
---
---
---
About Catherine

Propelled by the Manic Street Preachers' lyric "libraries gave us power", The Anchoress (aka Welsh producer and multi-instrumentalist, Catherine Anne Davies) is a voracious devourer of words and music.
From her early roots as a classically-trained flautist, to her current obsession with vintage synthesizers, Davies has spent much of the last four years developing her writing and engineering skills to become one of the most interesting up-and-coming songwriters and producers in the UK and has collaborated with a variety of artists including the London Philharmonic, Nitin Sawhney, Ed Harcourt, Bernard Butler, Liam Howe and Paul Statham.
The second Anchoress album, The Art Of Losing, will be released in March 2021.

Photo credit: Isabella Charlesworth.


This podcast is 100% powered by my Correspondent's Club. Thanks to every single member for your support!
New to my musical world?

+ Get two free songs music immediately by joining my mailing list.
+ I send a thoughtful weekly email every Thursday – join The Correspondent's Club on a free or paid tier to receive it.
+ New episodes of my music podcast "Attention Engineer"are released every Wednesday – visit this page to find out more and subscribe via your favourite podcast platform.
+ You can also follow me around the web, on YouTube, Twitter, Instagram and Facebook.
Have a lovely day xo
Podcast