Ep22: Bernard Butler on sticking to his guns, staying creative and always moving forward
---
Welcome to my conversation with Bernard Butler, recorded on 22nd October 2020.
[Content warning: some friendly swears.]
In this conversation, we discuss:
Bernard's latest collaboration – "In Memory Of My Feelings" with Catherine Anne Davies aka The Anchoress
looking for "the crack in the door" – working out what you can bring to a project as a producer / songwriter
the power of songwriting to change lives
sticking to your guns and refusing to live off past glories
how committing "career suicide" led to one of the biggest pop bangers of all time (and it was written in just one afternoon)
what it's like to be treated like a character, not a person
turning down the chance to work with Adele in favour of a football match – and having zero regrets
why going on about "the good old days" is a crime against humanity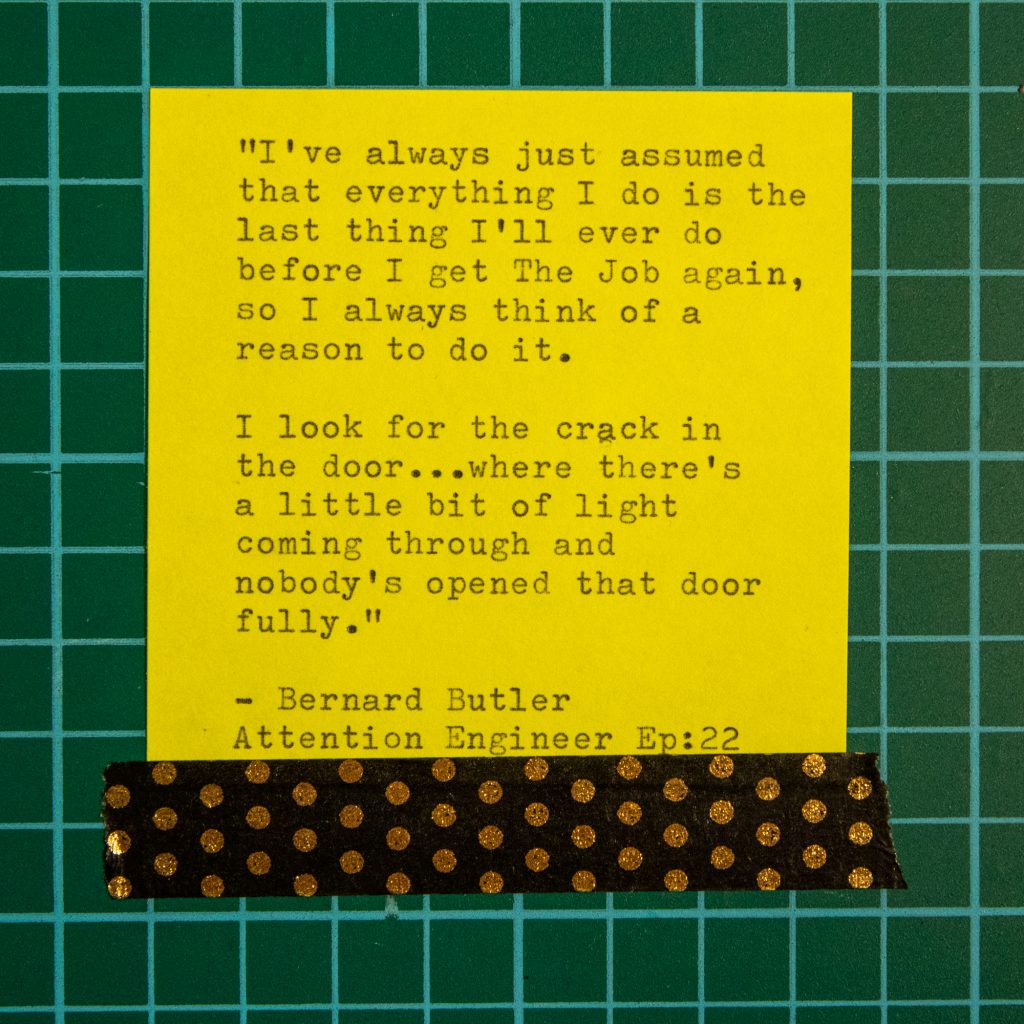 Explore Bernard's work:
Find out more by visiting his website and following him on Twitter.
---
---
---
About Bernard

Bernard Butler is an English musician, songwriter and record producer, noted as one of Britain's most original and influential guitarists.
Beginning his long and varied music career as a founding member of Suede, Butler is well known for wildly successful collaborations with David McAlmont, Duffy and supergroup The Tears (with former Suede bandmate Brett Anderson).
As a producer and songwriter he's worked with far too many names to mention, including The Libertines, Kate Nash, Nerina Pallot, Sophie Ellis-Bextor, Texas, Sam Lee and Paloma Faith as well as playing guitar on records by Aimee Mann, Bryan Ferry, Roy Orbison, Bert Jansch, Neneh Cherry and Ben Watt.
Alongside all this he is resident lecturer at BIMM London, teaching some very lucky students on the BA Songwriting course.

Top photo credit: Hollie Fernando.


This podcast is 100% powered by my Correspondent's Club. Thanks to every single member for your support!
New to my musical world?

+ Get two free songs music immediately by joining my mailing list.
+ I send a thoughtful weekly email every Thursday – join The Correspondent's Club on a free or paid tier to receive it.
+ New episodes of my music podcast "Attention Engineer"are released every Wednesday – visit this page to find out more and subscribe via your favourite podcast platform.
+ You can also follow me around the web, on YouTube, Twitter, Instagram and Facebook.
Have a lovely day xo
Podcast