Pre-order the Obey Robots album today!

The day is finally here! I'm delighted to invite you to browse the Obey Robots "One In A Thousand" pre-order extravaganza for limited edition coloured vinyl, CDs, cassettes, hardback books, guitar pick tins, tees and hoodies.

Order "One In A Thousand" today and be the first to get "Not The Quiet Type" as an immediate download, plus a new song sent to your inbox every six weeks leading up to the album release date of 24th February 2023.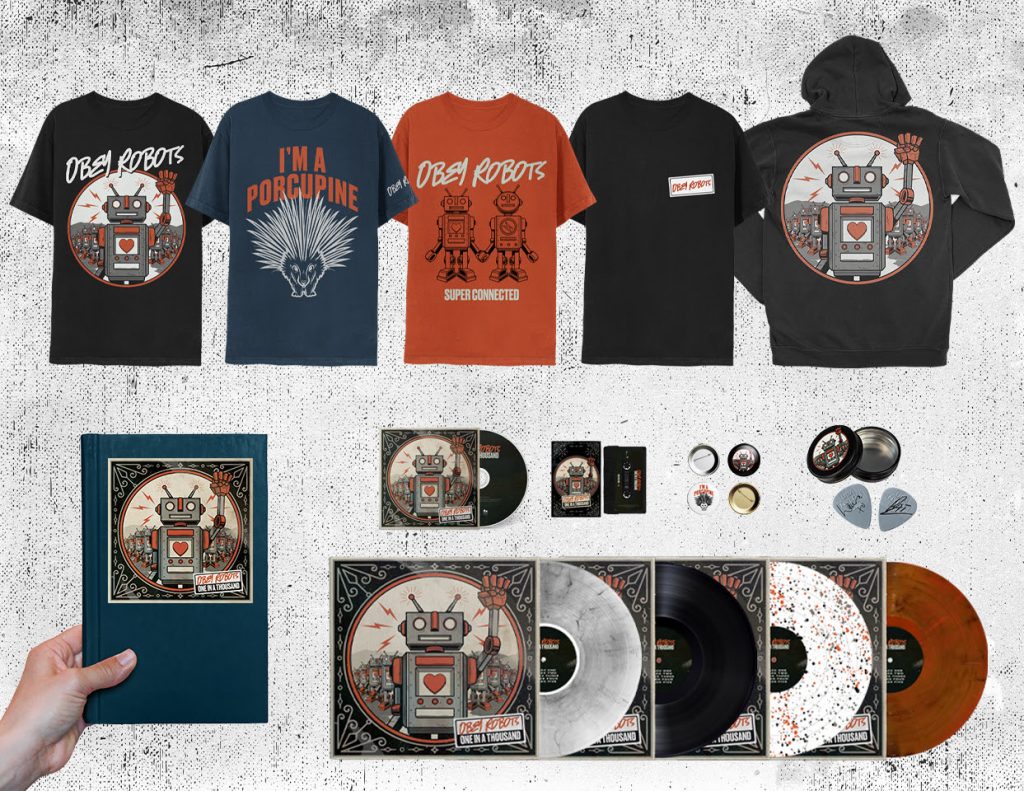 Rat says – "I never thought I'd be sitting here again saying the words "we've got an album coming out" – and I can't tell you how utterly amazing it feels to say just those words, knowing what both of us have been through over the last three years.

It's been a long time since I've done this, and I had to do a lot of soul searching about whether I wanted to do this again.

I can't say that I have any words to describe this."
---
I say – "The title track "One In A Thousand" sums up the album.

In a potentially very disconnected and lonely world, I hold onto the idea that every single one of us can hold a valuable place in our communities, offering the best of ourselves and receiving love and support in return.

Instead of clawing our way up to a lonely pedestal to be one in a million, we can stand together and be one in a thousand.

I hope you'll join our friendly robot army."
Launching new music into the world always brings a mess of emotions with it, and I really can't thank you enough for your support.
Thank you!
Laura xoxo

---
Join my mailing list for free songs and stories, subscribe here for future videos and get involved from the start of Penfriend album #2 by joining The Correspondent's Club.

Have a lovely day! xo
Creativity
Homepage Feature
Letterbox
Music News