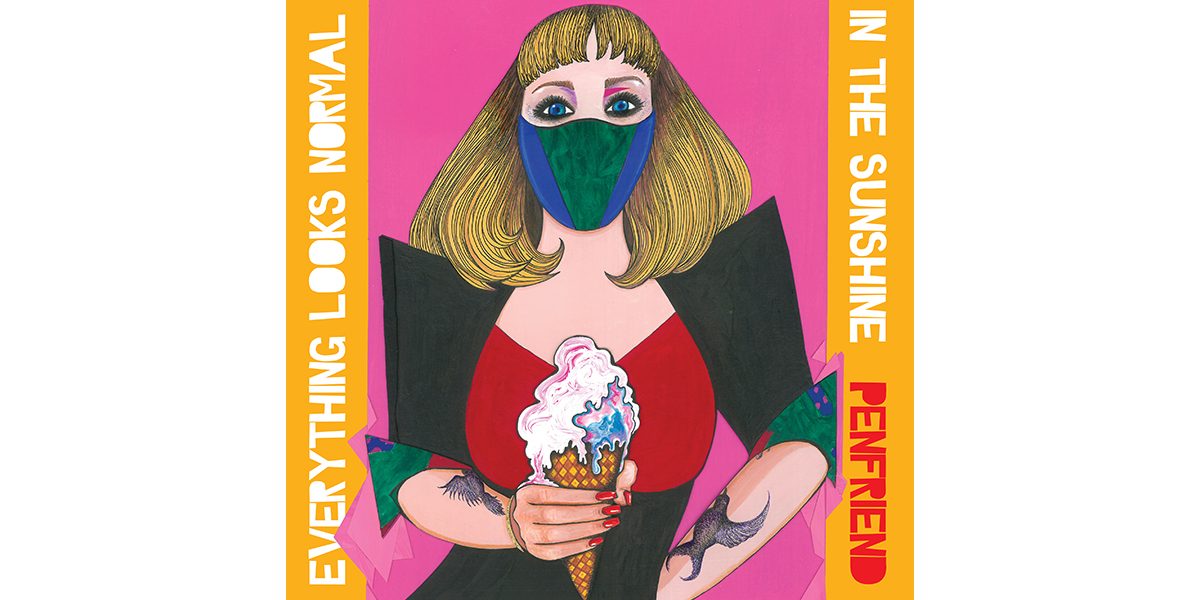 Everything Looks Normal In The Sunshine (15/5/20)
Release date: 15th May 2020
Label: My Big Sister Recordings
GET THE SONG

+ Get all Penfriend singles PLUS unreleased track "Cancel Your Hopes" FREE when you join The Correspondent's Club.
+ Download PWYW from Bandcamp.
+ Search for "Penfriend" on your music platform of choice.

Read more about how the song came into being here.

CREDITS

[music]
Written, produced and performed by Laura Kidd.
Drums by Max Saidi. Mixed by Dan Austin.
Mastered by Chris McCormack at Blacklisted Mastering.

[artwork]
Portrait by @genskiart, logo and wordmark by Miritte Ben Yitzchak, concept and layout by Laura Kidd.

ABOUT THE SONG

Debut Penfriend single "Everything Looks Normal In The Sunshine" was born as the horror of Coronavirus overtook the news. Shocked by the way life in her local neighbourhood seemed to carry on regardless – lawns were mowed, sparrows chirped and Laura's dogs always need their walks – her heartfelt response was, naturally, a song.
Written in a morning coffee break while her husband took a Skype work meeting in the next room, the song was recorded entirely in her home attic studio The Launch Pad, except for live drums which were beamed in remotely by Max Saidi.
"Everything Looks Normal In The Sunshine" is a technicolour reflection of these unprecedented times, offering hope and solidarity amidst the fear, an explosive sugarbuzz pop banger that at once recalls the heady strut of Dream Wife and Dinosaur Pile Up whilst nodding quietly to Blue Album-era Weezer and Nirvana circa Nevermind.
"Take heart there'll be time to celebrate" Laura urges as her widescreen, powerhouse guitars enter the fray. Right now, hope is what we all really need.

LYRICS
Keep calm, stay remote
Write your troubles on a Post-It note
School's out, last orders at the bar
I'm not pleased to see you
Don't stand so close to me
There's trouble in the supermarket
But everything looks normal
Take heart, there'll be time to celebrate
Don't second guess humanity away
Stand tall and we'll all take the weight
Cos everything looks normal in the sunshine, sunshine
Lights out, kids up early
Not ready for a life inside
It's gonna be a quiet night
but everything looks normal…
Wake up, don't be stupid
Your money won't help you now
It's too late to get your friends and neighbours round
Take heart, there'll be time to celebrate
Don't second guess humanity away
Stand tall and we'll all take the weight
Cos everything looks normal in the sunshine, sunshine, sunshine
Take heart, there'll be time to celebrate
Don't second guess humanity away
Stand tall and we'll all take the weight
Cos everything looks normal, even though it's terrifying
Take heart, there'll be time to celebrate
Don't wanna trust my future to fate
So I'll cut my own hair while I wait
Cos everything looks normal in the sunshine, sunshine, sunshine
Letterbox
Releases
Singles