My lockdown anthem of hope is out today
GET THE SONG
+ Get "Everything Looks Normal In The Sunshine" plus unreleased track "The Only Way Out Is Through" FREE when you join The Correspondent's Club.
+ Download PWYW from Bandcamp.
+ Search for "Penfriend" on your music platform of choice.
Thanks for listening! Now, read on to find out how the song came about…

I looked up from my notebook impatiently, tutted, sighed and stood up, striding the two paces from my desk to the studio door to slam it shut. This wasn't working out too well.
My jokes about noise-cancelling headphones (a luxury beyond my means) were becoming less jovial. Between the concentration-stealing mood swings of the neighbourhood toddlers and the long, loud video meetings my husband had started attending from his home office next door, I was feeling trapped…and guilty – for feeling trapped when I was in a better position than many (a house with space for two plus a small garden, a happy relationship, my health).
In the week before the UK lockdown was announced, Tim and I had already decided to stay inside and were adjusting to being around each other all day. I limped through the last few lines of my Morning Pages and picked up my guitar. I felt frustrated and a little bit sulky foot-stampy childish – why did I have to be quiet, anyway? I'm a musician FFS!
I had already picked out a sentence from my morning's writing and scrawled it across my whiteboard in blood red pen. "Everything looks normal in the sunshine" felt like the germ of something important, and was indeed the portal to a song that assembled itself in a swift and orderly fashion on bashed acoustic guitar with time to spare for me to overhear yet more meeting afterwards. YAY.
I demoed the song the following Monday and performed it live in front of Robin Ince, Josie Long and Jo Brand two days later. I've been working with brilliant remote drummer Max Saidi since we were introduced by a friend last spring, so once he sent over his parts I recorded the bass, guitars, synths and vocals here in The Launchpad and sent everything off to Dan Austin to be mixed.
I decided to make the most of my ability to do whatever the fuck I like as an independent artist and change my launch plans to make room for a different debut single, and so here we are.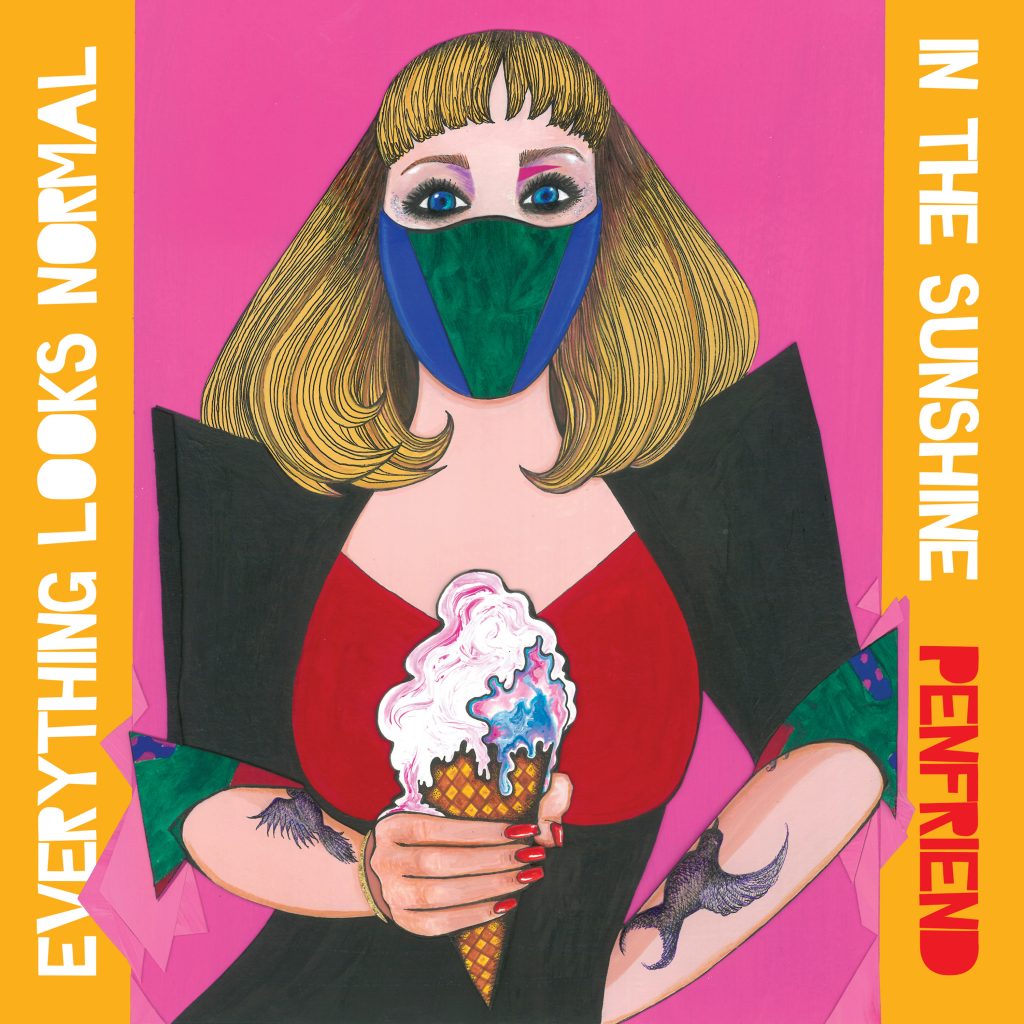 A song like this needs some killer artwork, and I'm so pleased to have collaborated with one of my favourite Insta artists @genskiart on this.
The jarring image of the best looking ice cream in the world and the face mask preventing me from enjoying it is a symbol intended to reflect the bizarre times we all find ourselves in – everything looks normal in the sunshine, but in our myriad ways we're navigating a terrifying situation that throws the normal, everyday idea of a simple ice cream on a sunny day into question.
When I wrote this song, UK supermarket shelves were being emptied by panic buyers, while other people seemed very slow to take the threat seriously. When I was working on the lyrics I pondered our disconnected lifestyles, picturing a scenario where someone who hadn't previously bothered to greet their neighbours suddenly found themselves isolated, hoping their relative privilege would protect them – "your money won't help you now".
The artwork poses the questions I've been asking myself as I navigate this strange and unsettling time – with this global pandemic as a backdrop to all of our lives, what is important? What and who do we really miss? How should / could we be spending our time, now and in the future? What do we regret? What would we change if things could go back to "normal", and if we're still waiting, why are we waiting to make those changes?
We're two months into a race with no clear end in sight, and it's hard to pace ourselves. Surviving is more important than thriving at the moment, and I am in awe of our NHS workers, keyworkers of all kinds, parents home-schooling their kids while trying to work from home and you, too. I see you. This is tough.
I'm not alone in spending some of my lockdown feeling guilty that others are out there working, putting themselves at risk. But, as a wise osteopath once said to me, "Just because some people have lost their legs doesn't mean your broken foot doesn't hurt, Laura". Acknowledging that there will always be something happening that is bigger and more important than a musician releasing a song, I wanted to share this track with you now because it is my interpretation of a very particular situation, a global moment in time that I hope against hope will be something we can move beyond.
It's not fair that workers are being pressured into returning to jobs when there's no vaccine yet. The current message from the Government is a shambles. It's brutally unfair that BAME people are more at risk of getting the virus, and it breaks my heart that while NHS workers die for their efforts to save us, people throw street parties and form conga lines.
It's time for us to acknowledge our various privileges and look out for each other like never before, but it's also perfectly acceptable to feel sad about missing the people and things we care about. We can only look forward, now, and try to hope, but it's ok to want an ice cream on a sunny day.

Thank you for listening to my new song.
Love, Laura xxxx

THANK YOU for visiting my website!
+ Get FREE music immediately by joining The Correspondent's Club (free and paid tiers available).
+ I send a thoughtful weekly email every Thursday – choose the Freewheeler tier or upwards to receive it.
+ New episodes of my music podcast "Attention Engineer"are released every Wednesday – visit this page to find out more and subscribe via your favourite podcast platform.
+ You can also follow me around the web, on YouTube, Twitter, Instagram and Facebook.
Have a lovely day xo
Letterbox
Music News