EU VAT woes? Bandcamp musicians, you're (probably) doing it wrong…
…but it's not your fault, and I'm here to help. TAX DOESN'T HAVE TO BE TAXING (apparently…)!
[Last edited 15/10/21 after input from kind tweeters – I feel this may be a document that grows!]

This article will be most useful if you are:
A UK-based, non-VAT registered musician selling your wares to music fans in EU countries via Bandcamp.
It will also be some help if you are:
A musician based in a non-EU country besides the UK selling via Bandcamp.
A UK-based, non-VAT registered person selling things via Etsy / eBay / any other platform that has agreed to act as a Marketplace and collect VAT from your customers on your behalf.
Why should I care? I'm busy just trying to get through the day!
Me too, me too. BUT, if you don't do this properly, your customers will probably get charged VAT twice. When they pay VAT at checkout, they're charged between around 20-28% of the order value (depending on their country), but when they get charged on delivery it can be quite a lot more. That sucks on its own, but if they've already paid the VAT they're going to be, rightly, annoyed.
Please note: I am pretty handy at a lot of things, but I'm not a VAT expert, an accountant or a financial advisor. I've read a lot of quite boring articles in recent weeks in an attempt to get my head around this issue and make sure I'm doing things properly, and it's annoyed me so much that this information was so hard to find that I'm collecting it here to save you the headache.
I'm not going to wang on about every detail, I'll just share the pertinent facts so you can make sure your customers won't get charged twice for VAT.
Caveats complete, let's get started.
VAT? What? Why? Who? How?
In July 2021 the VAT laws changed. Prior to Brexit, sending a merch order from the UK to Germany wasn't considered an import, because we were all part of the EU (oh, happy times). Now the same merch order is considered to be an import, and VAT needs to be paid.
You might remember that back in late 2014/15, the rules changed so that people in certain countries had to pay VAT on digital goods, and Bandcamp kindly stepped in and agreed to deal with that for everyone selling through them.
This year, they agreed to do the same for physical goods. Thank goodness! If they hadn't, I would have had to register for VAT in the UK (regardless of turnover) in order to be able to sign up for the IOSS scheme to charge VAT on EU orders sold to the EU. If that sentence made your brain freeze you should be especially grateful that Bandcamp are helping us out…

BUT there's a gap!
Connecting the dots…
Unlike other platforms acting as "Marketplaces" e.g. eBay and Etsy, Bandcamp didn't send any information out to us sellers to explain how the system works, and to let us know that we need to connect the dots for the postal system.
This did annoy me. I've been selling music and merch through Bandcamp since 2009, and I'd hoped for more guidance. Bandcamp are brilliant, they offer such a wonderful service for us and I still love them very much, but this didn't need to be so difficult.

As I have my own Shopify shop as well, I knew I needed to read up on the new VAT rules to make sure I was doing things right over there, and it was only while doing so I discovered the aforementioned Bandcamp gap.

Skip this paragraph if you're only selling through Bandcamp or another Marketplace. If you're running your own shop, you can still sell physical goods direct to EU customers from your own shop e.g. Shopify / Squarespace etc BUT if you're not VAT registered you can't collect the VAT at checkout (because that would be illegal) which means the customer has to pay at their end when the order arrives. You cannot sell digital goods direct to EU customers from your own shop, though. I'm trying to find a service to plug in to my Shopify checkout which will act as a Marketplace a la Bandcamp etc so I can sell digital and physical goods and get the VAT dealt with but I haven't found one yet. And of course there's a limit to how much you can make without having to register for VAT in European countries (€10,000) as there is for the UK (£85,000).

OK, back to Bandcamp: at the end of September I got in touch with Bandcamp support and started trying to get to the bottom of the whole thing, and I received very little assistance from them. After the aforementioned hours of reading boring articles about the IOSS system, I figured it out and told Bandcamp I thought they should get in touch with everyone to explain this.

They didn't respond, but a few days later my tweets on the matter were shared with the UK Director of the European Centre for International Political Economy.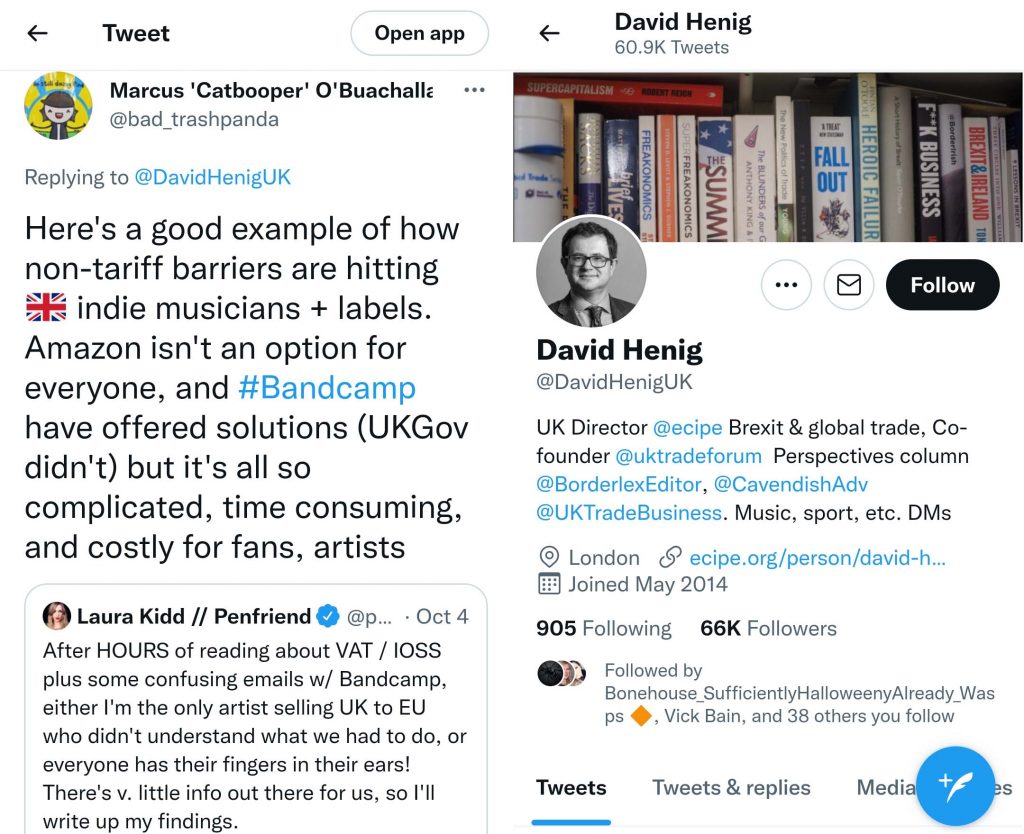 That evening, Bandcamp sellers received this message:
---
"Recently, the EU implemented new rules regarding taxes on imported goods. All physical orders destined for the EU are now subject to the member country's VAT. As a seller using Enhanced Payments (where Bandcamp processes the payments and makes payouts to your account), these taxes are automatically collected and remitted by Bandcamp at the time of sale.
Proof of this tax collection is provided by our IOSS ID, which you can find in your sales receipts and the packing slips on your Merch Orders page. This IOSS ID must be included on your package or accompanying customs forms; please check with your carrier or local post office if you have questions about implementation. Failure to include the proper tax information may result in additional tax or customs charges for your fans."
---
What does that mean?
I've put the important bits above in bold – the main issue here is that when Bandcamp charge VAT to a customer, we the sellers have to make sure the postal carrier knows VAT has been paid, and prove it too.

How to do this will vary slightly from country to country, but surely not that much.

How to do it right (in the UK – adapt for your own country)
1) The best way of doing this is to set up a Royal Mail Click and Drop account, where you can pay for postage and print out labels and customs forms direct. The reason this is the best way, is that when your package arrives in the destination country it can easily be scanned and the IOSS number will show up.
There are two schools of thought on the next bit – some say printing the postage via Click & Drop as above is enough, because the order details will be contained within the QR code on the Royal Mail postage label BUT when I used Click & Drop I couldn't find a place to detail the order amount, VAT paid etc. Unlike Etsy / eBay etc it's not possible to export orders from Bandcamp to Click & Drop directly. So, without manually adding the order information in Click & Drop, if that's even possible, I'm not confident I'm including enough information with packages.

What I've been doing is printing the Bandcamp packing slip showing the IOSS number and details of the VAT paid and tucking it inside a "documents enclosed" pouch, which I attach to the parcel. If I don't do this, I can only imagine the postal carrier has to take my word for it that VAT has been paid.
Here are links for the "documents enclosed" pouches and the Avery J8169 labels I bought, though obviously feel free to shop around. These aren't affiliate links anyway 🙂

PS – adding the Bandcamp IOSS number to your Click & Drop account is hard to figure out, so scroll down to the bottom for screenshots showing how to do that – this also applies to other Marketplaces like eBay and Etsy.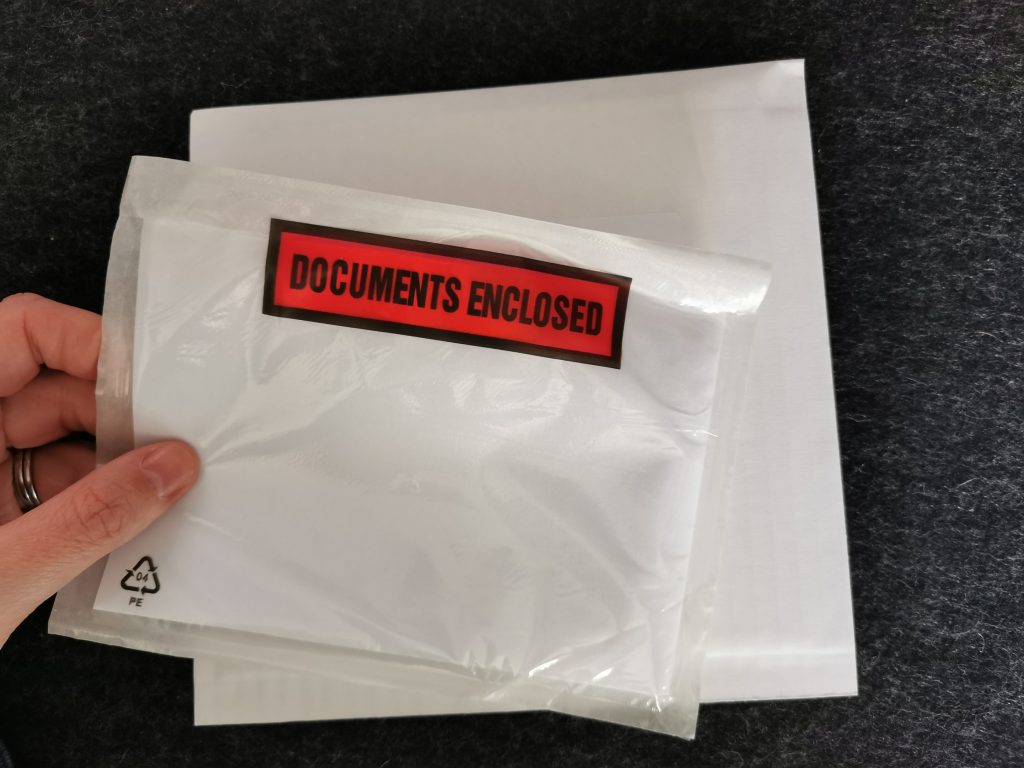 2) Another way is to write the IOSS number and the Marketplace name on the front of your parcel, as well as printing the packing slip and tucking it into a "documents enclosed" pouch on the parcel as detailed above.
When I asked about IOSS at my small local Post Office, my (very friendly and helpful) PO worker shrugged, said "this is all we've been told about it" and handed me a sheet of stickers to fill out and put on the front of the envelope. I think for more known platforms like eBay / Etsy you just write the name, but I would add the IOSS number on these labels as well to be sure.

I use Royal Mail's Drop & Go service a lot, so I might try these labels, but the Click & Drop system works well now I've got the labels and have tried it a couple of times.
How not to do it
I read on some forums that people have just been writing the IOSS number and the Marketplace name on their packages. That's basically the same as using the ridiculously non-official looking Royal Mail stickers above but the issue surely is that without the "documents enclosed" pouch, the postal carrier in the destination country just has to take your word for the fact that VAT has been paid. Which, let's agree, they probably won't. It might work, it might not. For me, this is about making absolutely sure my VIP customers don't have to pay extra fees, so I'll just use the documents pouch method.
How NEVER to do it
You must only use the Bandcamp IOSS number for packages sold through Bandcamp where VAT has been charged. It's illegal to use it on packages sold through other platforms, because it's illegal to avoid paying the VAT. We're running legitimate businesses here, so don't be silly.

I've decided to block orders from EU countries on my Shopify store because 1) I can't charge them VAT at checkout because I'm not VAT registered, so can't join the IOSS system directly and therefore 2) don't want them to have to pay over the odds at their end to receive the goods. As above, it's still legal for me to do this, but it's not ideal. I'm going to be directing those people to buy from Bandcamp instead, because it's moderately less of a headache now I've got it figured out.
Any questions / comments?
I hope you've found this article helpful. If you have questions, drop them below in the comments. If I've got this all horribly wrong, I'd love to know. I'm not pretending to be an expert, just sharing the knowledge I've gleaned recently. Please be polite though, because life's too short for anything else.

If this article did help, please consider picking up some music and merch from my shop or you can buy me a digital cup of coffee via Paypal.

I share less TAXING pieces of writing on my mailing list, and you're welcome any time.

You can also follow me around the web, on YouTube, Twitter, Instagram and Facebook.
---
WAIT, WE'RE NOT DONE YET!
I promised you screenshots, and I am giving you screenshots.

How to add Bandcamp's IOSS* to your Royal Mail Click & Drop account
(And/or other Marketplace IOSS numbers of course, just set up a separate profile per Marketplace you sell through)

Wake up! I'm still talking! It's pretty picture time anyway, we're nearly done.

1. If you haven't signed up for a Click & Drop account yet, here's the link. Just call me the Royal Mail influencer *

* please don't

Important: Royal Mail have some good How To guides here to get you started. The notes below are just about adding IOSS numbers to your account.

You need a separate Trading Name profile per IOSS number you use, so if you also sell to the EU via eBay / Etsy then make a separate Trading Name for each one. If you just use Bandcamp, you only need one. So…

2. Go to settings.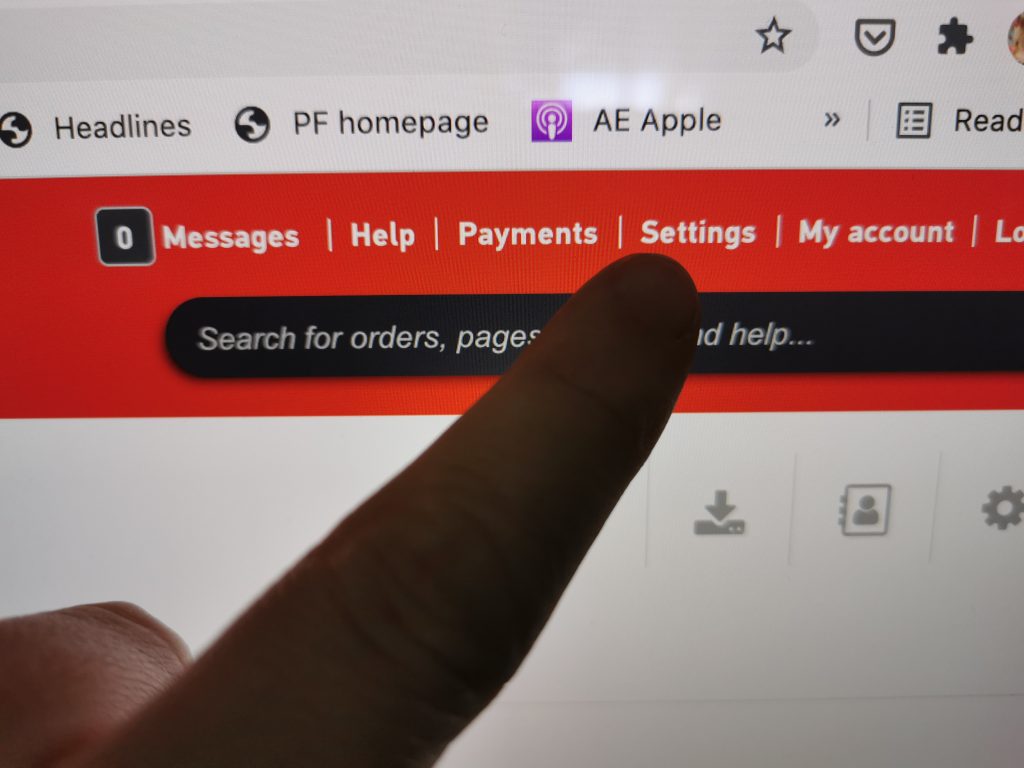 3. Click on Trading names.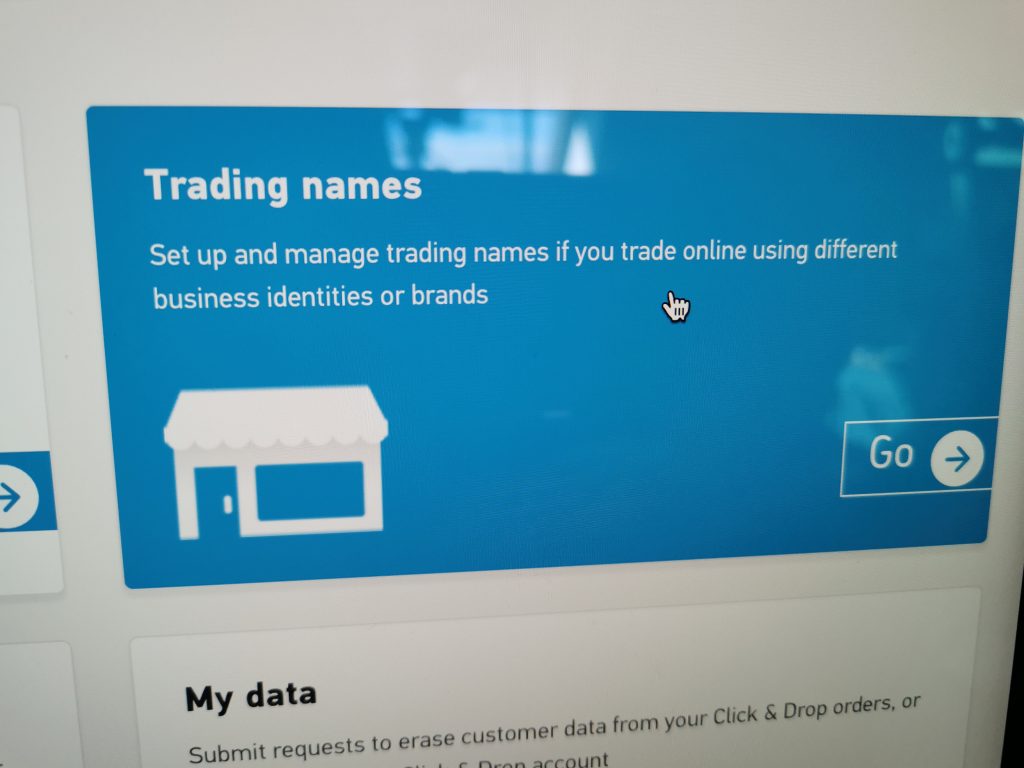 4. Add a new trading name (or amend an existing one if it doesn't already contain IOSS information you're using)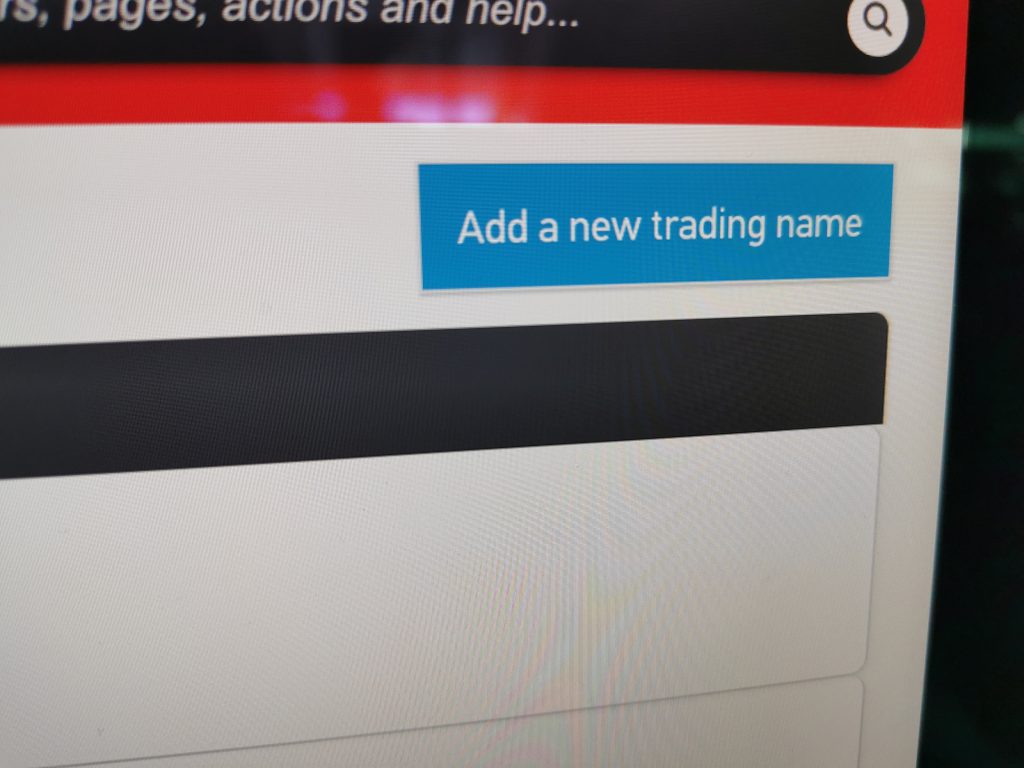 5. Click for the dropdown menu in the "Pre-registration tax scheme and IOSS" box and select IOSS (European Union). Add the Bandcamp IOSS in that box (get it from your EU packing slips).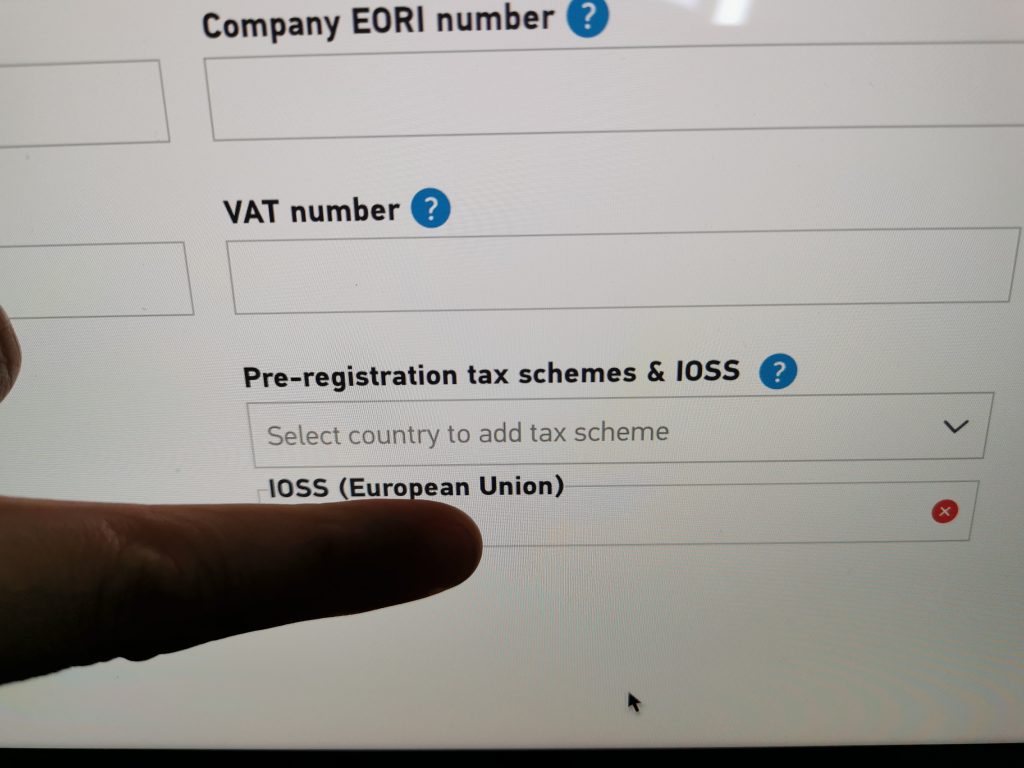 6. Click update in the bottom right corner of the screen and you're good to go! Just make sure you use the correct Trading Name for the packages you send.

Additional notes

When I added postage to my EU orders I was asked for the IOSS number again in the customs information.

And until I entered the HS code for CDs I couldn't proceed to checkout and print my documents. HS = Harmonized Commodity Description and Coding System. Every item you send has a customs code, and you can look them up here.

For reference, CDs are HS code 8523414, vinyl is HS code 85238090 and cotton t-shirts are HS code 61091000.
---
OK, that's it, I suddenly feel very sleepy – let me know how you get on!
Letterbox
Music News
Process